Is this clothes folder useful?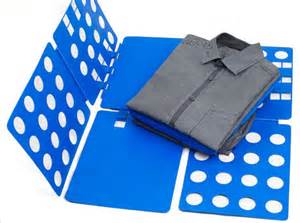 Guangzhou, China
December 3, 2015 1:44am CST
The first time I saw this creative product is from The Big Bang Theory. Sheldon used this clothes folder to fold his T-shirts. How to fold the clothes well is something I shall learn. Will you think it is better for me to buy this product so that I can fold the clothes professionally?
2 responses


• Malaysia
3 Dec 15
I have read a tutorial about using the cardboard to make a similar clothes folder. I didn't know someone is actually selling this. If you'd like to know how to DIY, I try to find out the tutorial. My mum saw the tutorial and she wanted to make one for my son to fold the clothes.

I prefer to use the way I am folding clothes, as it's easier to organize the clothes in our wardrobe.

• Malaysia
5 Dec 15
@youless
Of course if you really like it, just go ahead and get it. DIY usually takes longer time, and you need to gather the materials - cardboard and duct tape. Here is the tutorial, just in case you are interested in it:

If you are like me, you want to spend as little time folding clothes as possible. In retail stores, they speed up the process by using a folding board. A simple hinged board dramatically reduces the time that it takes to fold a shirt while maintaining