Why Do You Expect More than This from God?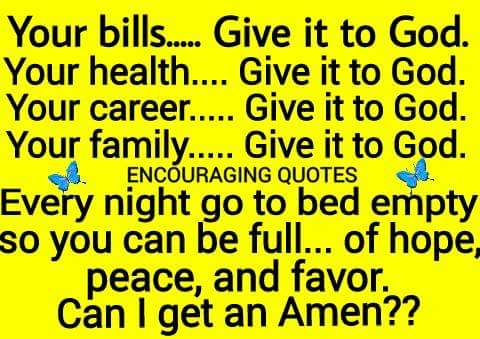 Oklahoma City, Oklahoma
December 3, 2015 6:09pm CST
(I know that people just glance at this question and are TEMPTED to respond without even learning what 'this' is; so please, read and find out ... or at least STATE "what you think 'this' is" when you reply) I keep warning about this risk, but people seem to prefer it to "actually finding-out facts of reality." I'm talking about 'how people confuse "praying" with "asking the genii to grant their wishes." I'll state the truth as plainly as I can. Praying to God doesn't make anything happen. Oh, it lets you 'rest your mind' knowing that what you can't control is "going the way God intended,' and it encourages your mind to 'look for things that are an answer to the prayer you had'; but God does the exact-same thing either way! The only thing that God gives 'because of your prayer' is the power to find what you ought to be looking-for.
2 responses

• Boston, Massachusetts
4 Dec 15
The Bible says to cast all your care upon him, for He cares for you. That's what it means to give those worries about health and bills and career, etc., to God. Not to get Him to give you everything you want, but to give him your worries so you can live by trusting Him. It's not that God is a genie, it is that God is trustworthy.

• Oklahoma City, Oklahoma
5 Dec 15
Trust him to do what, sit on his throne & say "Wow, that's tough; but You can do it

" & just sit there? You're right about the 'casting aside your worries'-part. That sheds some light on something ... 'Who
creates
the worries?
You
do!' Oh, I know that they're usually 'worries
about
activities among God's creation,' but the "feelings of worry" (fear, apprehension, regret, etc.) cloud-up matters. When you 'cast worries aside' (or 'to God,' if you think just setting them down will leave you at risk of 'picking them up again'

), you're able to see a clear course of action you should take---either to fix the problem or to trust that 'they who can fix the problem' will do so at the right time.

• Boston, Massachusetts
5 Dec 15
@mythociate
Jesus said His yoke was easy and His burden light. We put down our burdens, we cast off the yoke of the world and the legalists (Pharisees) and we take on His yoke and cast our burdens on Him. And we might not make it through every situation unscathed or without having been through a trial by fire. Though He slay me, yet will I trust Him. Faith is not about getting things, Trust is not about fixing problems. The world will always give problems, we will always have trouble in this life. Our trust is in HIM who overcame the world.

• Oklahoma City, Oklahoma
7 Dec 15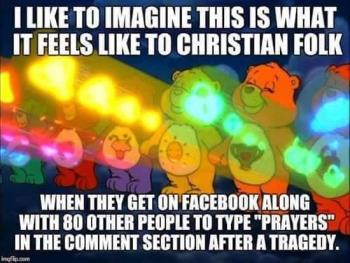 @Rollo1
"who overcame the world" by doing what?


• Nairobi, Kenya
4 Dec 15
I believe in every situation that God gives us He gives us the strength to conquer and so i wish He always gives me that strength to forge forward

• Oklahoma City, Oklahoma
5 Dec 15
That reminds me of a crucial 'I'-or-two in Brother Kenneth Copeland's "Six I's Prayer" "I Believe (
HAVE FAITH IN GOD!

). I Will. I Take (receive) it. I Have it. I Thank you. I Forgive (when you stand praying,
FORGIVE
)."

Skip to main content Select a Region Search form SearchSearch Search form SearchSearch Toggle navigation Kenneth Copeland Ministries Follow KCM Submitted by admin.user on Thu, 2015-02-26 09:31 Speaker(s): Kenneth CopelandAir date: Sunday, August 15, 2010Vi

• Nairobi, Kenya
5 Dec 15

• Oklahoma City, Oklahoma
7 Dec 15
@Missmwngi
You see you can't 'Have it' until you '
Take
it,' yes?