Taking a break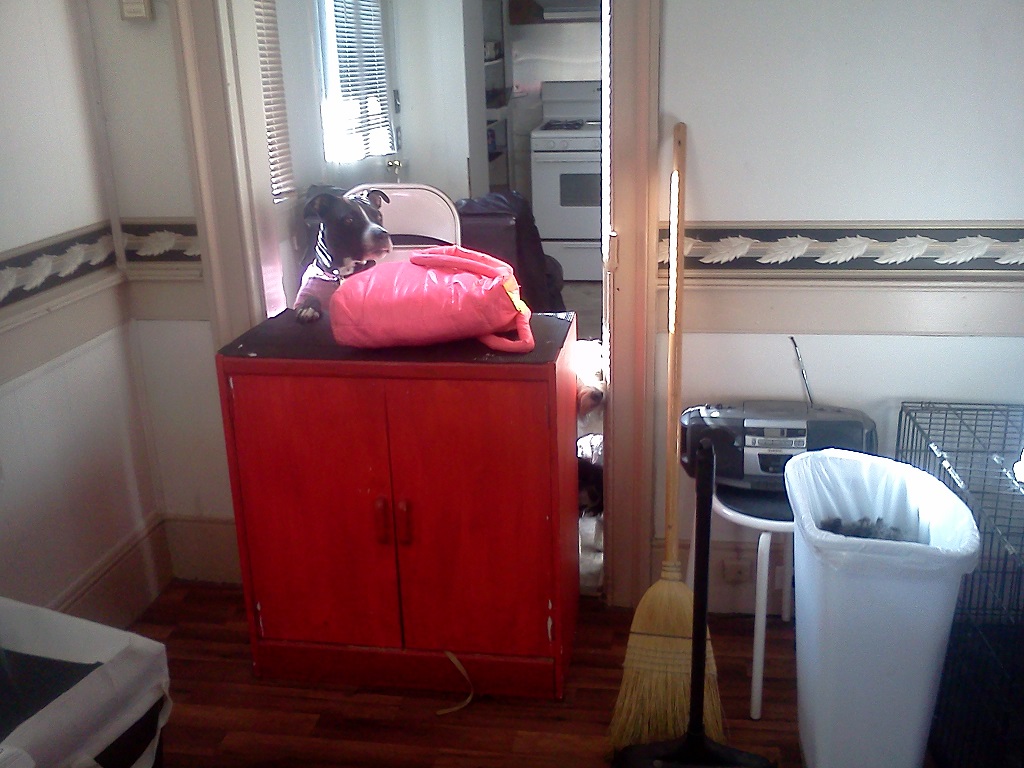 United States
December 3, 2015 7:48pm CST
I only have one more week of this semester, I got all my work done (well except for a silly extra credit paper the math teacher gave us, which I will have to get my daughter's help since she still observes Christmas) and I am pretty confident that I will pass my finals.

We are finally getting some winter weather, not a lot, but enough. The mornings are chilly and today when I left for class, the top of my car had a covering of snow. I am so glad that I won't be driving in bad weather for long distance like I did last winter, that wasn't fun.

Tonight, I am just staying inside, nice and warm, and may drink an eggnog or two while I relax. I can't stay up too late though, I have to be at the shop by 8 am and so I decided to share a picture I took a few weeks ago. My daughter brought her boyfriend's dogs with her this day, just to hang out, and because we had a big dog, she used her cabinet to block the dogs from coming into the room. You can see them peeking: Baby, the pit bull (yes she is a big baby, if I could I'd take her home with me) is standing on the left, Scrappy, a white terrier mix is peeking through on the right, then if you down down from Scrappy, that little black spot is my daughter's toy poodle, Menchi. What a fun day that was.
1 response

• Nairobi, Kenya
4 Dec 15
All the best on your finals

• China
4 Dec 15
How cute the dogs are ! It did make your day to have the little "guests ".Don't know what the credit paper is .

• United States
6 Dec 15
Thanks
@Missmwngi
I am pretty confident I am going to make it.

• United States
6 Dec 15
@changjiangzhibin89
The extra credit paper is extra homework we can do for extra points towards our grade.