Good Morning -- Saturday,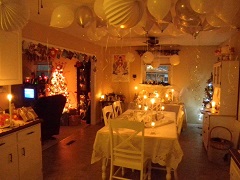 Chattanooga, Tennessee
December 5, 2015 6:03am CST
Almost ready to run out the door to do some more decorating down at the Fellowship Hall at our church. I was down there last night until about 9:00. Tonight is our party. I have so much to do, and sure hope I can get it all done. Not only at the church,but they are coming today to put down our flooring in my den where it was destroyed a few months back by backed up sewer pipes, and what a mess it was. Disgusting for sure. I love staying busy, but the last couple of weeks have gone beyond busy I think. It is a constant go go go and maybe a few seconds to take a little bit of time for me and do what needs to be done in my own life. Not complaining honest. I would be lost without my kind of life, I totally enjoy what I do. I may sound like I am complaining, but I really ain't. Ain't is a good word for me.... they used to tell me it wasn't in the dictionary, but I found it and proved them wrong... So I use it a lot. Have a great day, I love you, and always know, God loves you so much more.
3 responses


• Chattanooga, Tennessee
8 Dec 15
@Rollo1
(14868) , AnjaP, you are definitely my kind of lady... love ya, and yep, I am me, and will be me forever, I guess even in heaven.... You have a very Merry Christmas and love to you my friend. Thank you.

•
5 Dec 15
Please don't run there. It's too early to run. I haven't had enough coffee yet to run, even though I probably wouldn't run anyway, I'd just saunter, or something.

G'mornin' to ya.


• Chattanooga, Tennessee
8 Dec 15
@PhredWreck
(9608) :: smiles ::: Forever, I think my real running days are over..it would be more like crawl.... But I am working on just walking perfect... Love to you my friend, and thank you so much for your comment, it picked me up for sure.

• Roseburg, Oregon
7 Dec 15
doing some decorating sounds like a lot of fun and a good use of your time.

• Chattanooga, Tennessee
8 Dec 15
@jstory07
(8370), thank you Judy... I am still decorating, My son finally got the floor back in my den and today I have been decorating it all day. I will probably get through by the time it is to take it all down :: smiles :: Love to you my friend, have a great day.