Tom and Jerry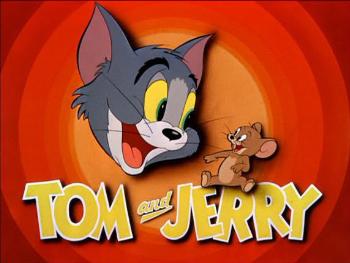 India
December 5, 2015 1:08pm CST
from my child hood i saw lots of cartoons,like fantastic four,centurion,shot cat,noddy,chota bheem,Flintstones,Popeye,spider man,bat man,Donald duck,duck tales, gummy bears,johnny bravo and many more. but my Favorite is tom and Jerry,its really nice cartoon because i learn lots of thing from it.it teach use laugh every time,sometimes show that though they fights but they always together as friends and fight with Pluto to live in house. in this age i still laugh when i see this cartoon and i even enjoy it same as before,though they put some episode repeat but i still like to watch it. my mom said you are still small that watching cartoon but while i watch it i just remember my child hood that how was that time and now its to much change but this tom and Jerry are still together.
3 responses

• United States
6 Dec 15
I have never really liked cartoons even as a child. My brother liked cartoons, and I remember one he watch was Tom and Jerry. He watched several though.

• India
6 Dec 15
yes its very nice i still watching it some times ,we always laugh when watch it and we never feel bore even repeat same episode.

• Denmark
6 Dec 15
I watched a lot of cartoons when I was a child and Tom and Jerry was one of my favourite cartoons. I also liked Popeye and Donald Duck. Even today some of those cartoons make me laugh, but I don't have a tv at the moment.

• India
7 Dec 15
yes i also enjot cartoon this day and make me laugh but i like to tom and Jerry most and its really amazing and also old,why you have not TV ,you not like it.

• Denmark
7 Dec 15
@birjudanak
Our old tv doesn't work anymore, and we can't afford a new one at the moment, but it is okay because I watch movies and tv shows on the internet instead. Yes, Tom and Jerry are fun. My husband think that I am a little childish because I like them, but the cartoons brings back nice memories from my childhood


• India
7 Dec 15
@Porcospino
its ok we can also see everything on internet which we show in TV,my mom me also said that you are still child but i like to enjoy cartoon at this age to because it make us happy and keep laughing which is good then drama serial who break home.

• Perth, Australia
6 Dec 15
I love Tom and Jerry but find it hard to watch it nowadays because they have changed the way it looks. Looks stupid. They keep changing the animation and making it feel / look different.

• India
6 Dec 15
here most of time old version show so i like to enjoy it and i am feel very happy while watching,i never bored if same episode repeat,some time i saw online.