What IS this Netgear-Applcation? #WNDA4100GenieMFC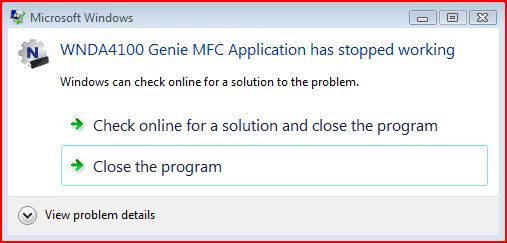 Oklahoma City, Oklahoma
December 9, 2015 8:01am CST
Every morning when I turn on my computer, THIS message pops-up: "(avatar) WNDA4100 Genie MFC Application has stopped working" I open up the "Click here for more info"-link, and the text-window opens up reading, "Problem signature: Problem Event Name: APPCRASH Application Name: WNDA4100.EXE Application Version: 1.2.0.10 Application Timestamp: 50ecd160 Fault Module Name: kernel32.dll Fault Module Version: 6.0.6002.19381 Fault Module Timestamp: 554d42a0 Exception Code: e06d7363 Exception Offset: 0003fd1e OS Version: 6.0.6002.2.2.0.768.3 Locale ID: 1033 Additional Information 1: 7cae Additional Information 2: 90537722f319abdc2b5f951c37dd4a84 Additional Information 3: c06d Additional Information 4: 58f435752e02c69cff585dc14423a3c8" I don't know who to ask what to do

1 response

• Cambridge, England
9 Dec 15
It's a program (or part of one) installed by Netgear. It's possible that it wasn't installed properly or that you have deleted something in error which belongs to the program. This page should help you either restore it or remove it properly:

Expert guide on how to uninstall NETGEAR WNDA4100 Genie completely.

• Oklahoma City, Oklahoma
9 Dec 15
What is the purpose of the WNDA4100 Genie? I'm only seeing 'removal instructions' on the page, and I don't think I want to do that. Should I Remove It says "The software is designed to connect to the Internet" It also lists the files that are used by the application. Do I need to go make sure I HAVE those files?

Should I remove NETGEAR WNDA4100 Genie by NETGEAR? NETGEAR N900 WiFi Dual Band USB Adapter connects your notebook or desktop computer to a wireless network with fast N900 wireless speeds and is perfect for demanding applications like streaming 3D HD video,

• Cambridge, England
9 Dec 15
@mythociate
Apparently it is a program which makes it easier to stream video and audio files. I don't think that it's essential but it may be part of your standard Netgear installation. You may want to reinstall your Netgear/router to see if that cures the problem. Read the instructions provided here and contact Support if you are not sure about something:

Untether your hard-wired network computers and devices. The N900 WiFi Adapter is ideal for the fastest downloads and high performance Internet gaming. Dual Band technology is designed to avoid interference and Push 'N' Connect gives you push button securit

• Cambridge, England
9 Dec 15
@mythociate
Sounds good!