Activity List

Virginia Beach, Virginia
December 9, 2015 7:09pm CST
Don't you think it would be easier on all of us if the Activity List included the author's pic instead of all the responders? It sure would save a lot of time as well if only my followers (and ee's) were shown. I have a lot of friends in MyLots. They are the ones I need to keep up with. What do you think?
8 responses

• United States
10 Dec 15
It's difficult to keep up with all the followers. You do the best that you can.

•
10 Dec 15
I think I really don't understand what you are trying to say.

•
10 Dec 15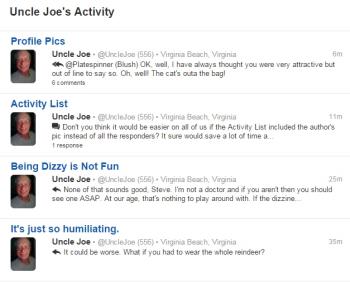 Your activity list shows only your photo. My activity list shows only my photo.

•
10 Dec 15
If you are talking about the list under 'People', it only shows people you are following, no one else.

• Virginia Beach, Virginia
10 Dec 15
@PhredWreck
Yes it shows my pic. But it should only accompany the posts I write. Not everybody who responded. That information is provided in the notifications.


• North Myrtle Beach, South Carolina
12 Dec 15
I just kind of muddle along and find what I find. Some, of course, I go looking for.


• Fairfield, Texas
11 Dec 15

• Garden Grove, California
10 Dec 15
what if some of us use other things for avators all do not use photos aone wants to see what I hatley look l ike visist m y wall Patsie Hatle y on facebook Im the one with the long white hair and wild sweater lol.

• Santo Domingo, Dominican Republic
11 Dec 15
Thats a good suggestion, it would probably attract more people to your post

• Centralia, Missouri
11 Dec 15
I just go straight to their discussions, and if i have time other tabs