What We Do in The Dark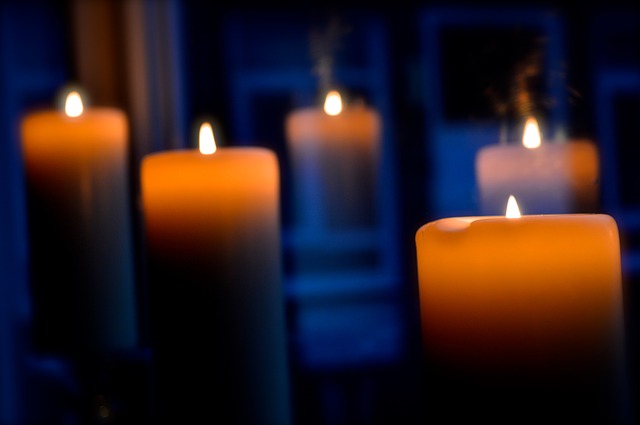 United States
December 10, 2015 4:04pm CST
When it starts to get dark outside, usually around 4:30pm, we light candles in our livingroom. We always put the lamp on, on the computer desk. We use other lamps as/if needed, but the warm glow of the candles is very comforting on the eyes. The candles we use are the tall glass ones you can buy at Dollar Tree. White wax lasts longer than colored because it burns a little cooler. Currently we have been using four of them plus a large scented candle in a jar. We have a small(ish) livingroom. My guy says the more candles the better. He believes they also help to heat the room an extra degree or two. His belief actually helps him feel warm. He is a thin man who is always cold. Do you use candles for light, specially in the winter?
7 responses

• United States
10 Dec 15
we use candle mostly for decor and not for light.Unless there is a power outage.

• Green Bay, Wisconsin
11 Dec 15
No, but I do have scented candles I light, mainly for the scent.

• United States
13 Dec 15
@just4him
I'm mainly drawn to food scented candles like sugar cookies, brownies, chocolate pudding and coffee rather than flowery scents...how about you?

• Green Bay, Wisconsin
14 Dec 15
@Marilynda1225
Cinnamon Apple, Sugar cookies, Apple Pie. I got one that I thought would smell great and has no scent at all - it's called winter I think. But yes, I like the smell of baked goods.

• United States
10 Dec 15
Not usually, but for scent or special occasions. And . . . it's so good to see so many friends from "that other site that no longer exists." I just joined here. Good to see you again,FibroGoddess.

• United States
11 Dec 15
Good to see you too. I said, "Oh , look, I know that lady. *be well*


• United States
13 Dec 15
I love candle too (especially scented ones) but have gotten a few flameless ones that actually work on a timer. I love candlelight