New Zealand may change a new national flag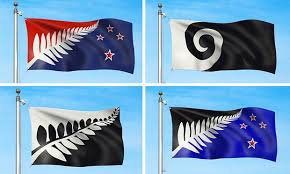 Guangzhou, China
7 responses


• Adelaide, Australia
15 Dec 15
They have narrowed it down, refined it, added more, etc since then.

• Singapore
12 Dec 15
It is a very stupid idea, and a very costly idea. The economy of New Zealand is not good at the moment, and to spend a few millions to change the national flag is simply a waste of money. When you add in the cost of changing all the flags in schools, government buildings, and the wrappings and tins of many goods made in New Zealand, you can see the impact of such a change.

• Adelaide, Australia
15 Dec 15
@youless
Prime Minister John Keys came to power when he was the richest man in the country. He can actually fund the whole thing himself! How much does a flag cost? We get our big ones for $2 from a Bangladesh sweat shop! Any costs will be very much compensated by swelling chests all over the country. When you want to see a country boom in bad times globally, just watch & see!

• India
12 Dec 15
yes its good that they are changing it and i like third one because its suite to their country with color.

• Guangzhou, China
16 Dec 15
@birjudanak
The first one. As the flag with the leaf in black and white seems to be a little dark color in my opinion.


• Adelaide, Australia
15 Dec 15
It's about time

! But it's not the first time. I really do hope they succeed; then we will have a good excuse to do the same, thereby ridding ourselves of the curse of the Union Jack & all that British Empire imperialism stands for

! After the richest man in NZ became PM, New Zealand has been going gang-busters & putting us across the pond to shame. If he can clear this hurdle, he can take the crown head-on & win.

Their native FERN (it's not a leaf, people!

), looks great. I was hoping for a Kiwi bird on there & maybe a kiwifruit. I wish New Zealand every success on its path to becoming a truly sovereign nation in its own right. That country has so much going for it right now & so much to be proud of.


• Adelaide, Australia
15 Dec 15
@youless
They chose the Silver Fern to do what Canada did with their Maple Leaf.

• Adelaide, Australia
15 Dec 15
@veganbliss
I'd prefer they went with the flag that has ONLY the Silver Fern on it. Australian Flag features a Southern Cross already, so they should get rid of it to better distinguish themselves.



• Budennovsk, Russian Federation
11 Dec 15
what does this branch of leaves symbolize?

• Adelaide, Australia
15 Dec 15
The Silver Fern is their National Emblem.

From Wikipedia, the free encyclopedia Jump to: navigation, search "Silver Fern" redirects here. For other uses, see Silver Fern (disambiguation). Silver fern Frond, showing silver underside Scientific classification Kingdom: Plantae Division: Pteridophyta

• Boise, Idaho
11 Dec 15
I like the leaves. Hope they go with one of those.

• Boise, Idaho
11 Dec 15