Have you been affected by Global Warming?

United States
December 11, 2015 10:57pm CST
It is extremely warm here for December. I am not crazy about it...but I must admit it is better than two feet of snow...and gives me a break on the electric bill. I think it is part of el Nino and not global warming, but by the same token...they may be inter related..Most years recently have been much warmer than the average.
9 responses

• New Zealand
12 Dec 15
Climate change doesn't have to be dramatic to have a big impact on the biosphere. I think we will all be affected in ways we don't immediately recognize.
@TheHorse
's example of pine beetles is a good one.

• Pleasant Hill, California
12 Dec 15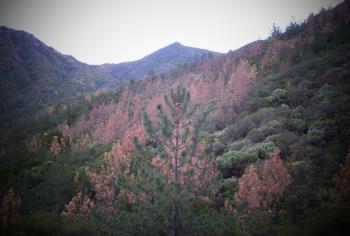 I think so. The various kinds of "pine beetle" that have been attacking trees in Montana are slowed by very cold Winters. The relatively mild Winters we've had up there recently have meant more kinds of beetle "running wild" up there. Some have even attacked our young Douglas fir trees at the family cabin. This photo of dying trees is from near Missoula Montana. I took it last Summer.

• Canada
12 Dec 15
Global warming is here to stay. Too much pollution covering our planet to allow it to breathe. it could be the end of our world but probably not in our lifetime, that's why so many are ignoring or making excuses about not fixing it.


• Indonesia
12 Dec 15
In my country, this year, dry season take place too long, most of weather expert said that it caused by el Nino that does not bring much cloud, so that we have short rainy season and have long dry season.


• United States
12 Dec 15
No, I wanted a warmer winter this year and it's warmer. I'm enjoying it. I had it with 2 super cold years in a row. It's going to be 62 on Sunday. That's just awesome compared to last year.

• India
12 Dec 15
yes its due to global warming because here also in November winter come but its still not feel cold here so may be season are changing and i feel that summer will always more then other season.its not good that all time warm weather.