Justin Bieber....The new Michael Jackson!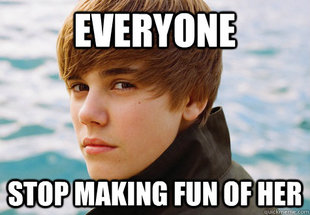 Perth, Australia
December 12, 2015 4:44am CST
I read something quite awhile ago now that Justin could be the new Michael Jackson. Who ever said this or even believes this is just.....I don't know....maybe was dropped on their head. I do like a few of his songs and maybe I am being extremely biased since I have been a HUGE fan of MJ since I was 11 years old but even then...how can the two even be compared? I am really trying hard to be nice and not judge Justin. Even though I'm not a fan but besides music and endless hilarious memes, what has Justin given us?
5 responses

•
12 Dec 15
I find them quite a bit alike in that I don't listen to either of them.


• Perth, Australia
12 Dec 15
haha well pffffft! I will still take that as Michael being better! :D

• Perth, Australia
12 Dec 15
@PhredWreck
haha I like a few songs from Led Zeppelin but I'm sure I could arrange to listen to them more often if this is the case.


• India
8 May 16
Pfftt.... He can only dream! I love when they merge Miley's and Justin's faces. Friggin look like twins. And crappy too

• Perth, Australia
9 May 16

• Perth, Australia
14 Dec 15
The more people like you, the better!


• United States
12 Dec 15
I think they were misunderstood. They meat Michael
Johnson
, the guy who had the one hit "Bluer Than Blue" in 1978.

Or maybe they meant Mike Jackson, the former mediocre Major League Baseball pitcher.


• Perth, Australia
12 Dec 15
hahahaha I really wish they were misunderstood. But sadly enough they were that deranged to mean Michael Jackson.

• Berlin, Germany
12 Dec 15
LMAO that picture made me laugh so much. The text is so serious but then I realised that it's Justin. I'm not a big fan of him either. He is not THAT popular in Germany but I don't really like his songs anyway. I'm also not a huge MJ fan but I like him much more though. He has some really good songs. So Justin hasn't given me anything so far. Well except some good laughs :P

• Perth, Australia
12 Dec 15
haha yeah it made me laugh soon as I saw it. haha schweeeet!