How to Make a Great and Easy Soup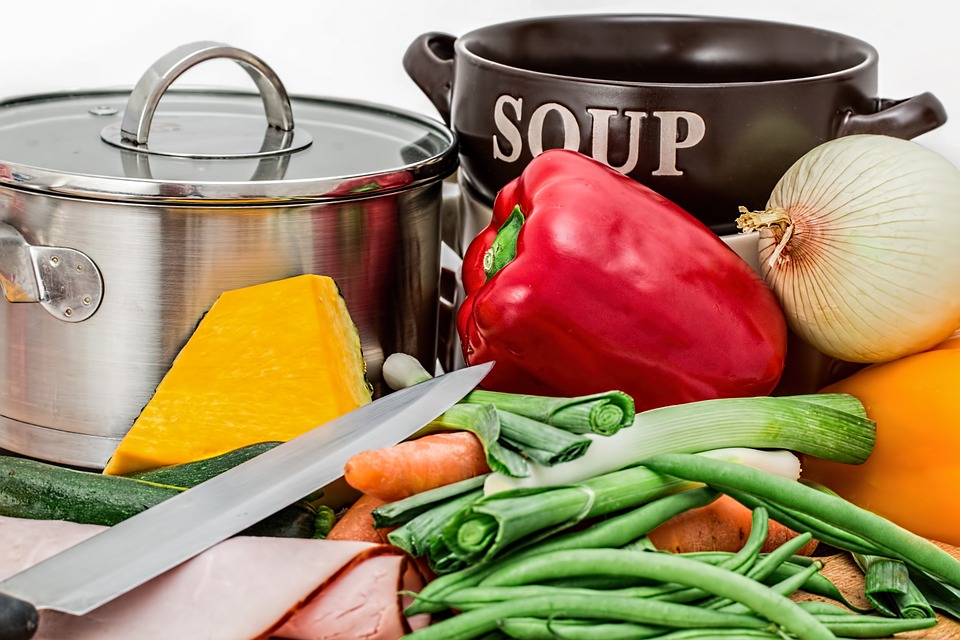 St. Petersburg, Florida
December 12, 2015 10:17am CST
This is not a recipe, it is about a couple of techniques to use when making a soup from scratch. One way I know I can make a wonderful soup, is by utilizing a soup base that will guarantee success. My personal favorite is a canned soup that can blend well with other ingredients. For instance, I just made a soup, using a chunky soup product from Campbells. I do not like canned soup, but using it this way adds dimension and flavor, in addition to freshness. The base already has tomato in it, so I added fresh chopped tomato, in addition to chopped onion and chopped celery. As a personal preference, I also added a little honey, to take away any tartness, and add a bit of smoothness and sweetness. I could also have added any other vegetable, including potatoes, carrots, beans or grains, such as rice. I could also have added some meats or fish, as this canned soup has sausage already in it. I let it all simmer for awhile, and am always pleasantly surprised at how well these turn out. Another method is to make creamed soup in the blender from simple ingredients. If you like creamed soup, you can use plain milk, with added vegetables, meats, fish or any combination. Blend until creamy. Make sure all ingredients are cooked, so all you have to do is reheat them, and add butter, salt and pepper if desired. You can also grate some cheese into it. This makes a delicious soup, and milk substitutes work very well for this. I like doing this with celery, as I can never use up all the celery I buy. I like to do this with mushrooms, as well, becaue plain milk and mushrooms make a delightful cream of mushroom soup. Add a tough of garlic or cheese to this if you like, or leave it plain. It gets creamy just from the blended mushrooms. Make sure you add as many mushrooms as you can. Creamed soups without a milk base can be made the same way. Tomatoes, potatoes, onions, carrots and squash work well if you use canned or fresh chicken or beef broth as your base. Blend and season. With a bit of practice, you can whip up fantastic soups in a few minutes, using these techniques.
9 responses


• St. Petersburg, Florida
13 Dec 15
I like everything from scratch as well, but sometimes I am not that good with flavoring. A soup base can be anything, and I find that with fresh vegetables, meats and fishes, that the canned part fades quickly into the background and just helps everything else come together. I would like to learn more about how herbs are used, as my cooking skills would certainly benefit.

• Switzerland
13 Dec 15
@ThankyouLord
Herbs play an important role in cooking. I can feel the taste of canned soups and I do not like to consume some ingredients that they always put inside.

• Greece
13 Dec 15
@ThankyouLord
I find that the addition of fresh mint makes a nice difference to many soups, and parsley works almost as well. Chop it finely and give it time to blend.


• Malaysia
16 Dec 15
Thank you for sharing these techniques. I always cook soups at home, but I have not make any creamy soups before. I never try adding honey, milk and butter into my soups. I'll try that soon. Thanks!



• St. Petersburg, Florida
16 Dec 15
For soups that have a tomato base, a bit of honey or sugar into it takes the acid edge off, and mellows out the soup. Try it once or twice, and see if it doesn't taste better. There is a Chinese buffet near me, and they use some kind of sweetener in almost every choice on the buffet. As a result, everything tastes so good! They probably use sugar so as not to interfere with the flavor itself. Even their breaded items have a bit of sugar in the coating.

• Malaysia
16 Dec 15
@ThankyouLord
I am actually cooking Chinese soups, we usually just add salt but I have not try any sweetener before. I will ask my mom and see if she knows any.

Thanks for your tips!

• Greece
13 Dec 15
I enjoy making soup, I have a mushroom recipe that is excellent and very easy. Sometimes I use a packet of tomato soup when I am in a big rush and I simply add some evaporated milk to that. This makes it instantly 'cream of tomato soup' and takes the edge off it.

• St. Petersburg, Florida
16 Dec 15
I was just telling someone else that for a tomato based soup, adding a bit of honey or sugar (I don't use sugar, just honey) to it (this goes for any tomato dish) takes the edge off, and makes it better. Sometimes I will put a bit of honey into other foods as well. Not to overly sweeten it, but to add a touch of sweetness that brings out the flavor.

• Greece
16 Dec 15
I have to be careful about adding sugar because my husband is diabetic but even so I do add a little to anything with tomatoes, it certainly brings out the flavor.
@ThankyouLord

• Bunbury, Australia
13 Dec 15
These take a lot of the preparatory work out of making meals.

• St. Petersburg, Florida
16 Dec 15
Soup can always be thrown together, no matter what you have in the kitchen, if you're good at cooking. I'm no expert, but I can make a great soup in about twenty minutes, even when I don't have "anything to eat" in the kitchen!

• Bunbury, Australia
16 Dec 15
@ThankyouLord
My husband does most of the cooking but often uses soup mix in a sauce or as a base for something.


• St. Petersburg, Florida
16 Dec 15
I think chicken gravy, beef gravy, pork gravy or mushroom gravy in a jar might do the same thing, that is make a better base for a watery soup. Some of the dried soups would probably be fine, too for this, if they didn't have a lot of msg or other things in it.

• United States
12 Dec 15
Yes, that sounds good. I think it is probably cheaper though to buy a chicken broth than it would be using Campbells Soups for a base. The cost of those soups have really sky rocketed over the yeras.

• St. Petersburg, Florida
13 Dec 15
Almost anything appropriate could be used as a soup base. And you are right, they have skyrocketed in price. Soup used to be a "cheap meal," but no more!

• United States
12 Dec 15
We use V-8 juice, spicy or plain, as soup bases. Nice article!

• St. Petersburg, Florida
13 Dec 15
V8 Juice would be an interesting soup base. Thanks for reading!

• Philippines
12 Dec 15
thanks for the tips, I love soup, especially the ones with cream and tomato. Cream of Mushroom, cream of corn, crab and corn, yes nido soup or bird's nest made from bird's saliva

, once reserved only for Chinese Emperors but are now readily available, are harvested from caves in our country. Yeah i love soup but i can get lazy and just open up a can of Campbell or some other local soup


• St. Petersburg, Florida
13 Dec 15
Creamed lobster bisque is my very favorite, and cream of corn soup, potato soup, or many others (let's not forget pea soup with ham hocks!) Doing creamed soup in a blender is so easy. I have a Magic Bullet, and it makes just enough for one. I can stuff it with all kinds of things, then fill it to the top with milk, cream or broth, and turn it on. Quick, and a great way to use up leftovers.

• United States
12 Dec 15
@ThankYouLord
I also like homemade soup,. When you start with a good base creamed soup it always seems to taste better. Terrific idea.

• St. Petersburg, Florida
13 Dec 15
It does seem to pull everything together well. Thanks for reading.