Bikini Swim Suits

United States
December 12, 2015 2:36pm CST
The first modern bikini was designed by Louis Reard and he introduced it on July 5, 1946. The model's name was Micheline Bernardini. He named it after the Bikini Atoll, where the atomic bomb was tested. However, the bikini style can be traced back thousands of years. Pictures of women wearing this style when they participated in competitive athletic events have been found in several places. Contestants wore them in the first Miss World beauty pageant in 1951. For a while it was banned but as more and more actresses were photographed in bikinis, their acceptance became more popular. I have never worn a bikini myself, have you? This if for the ladies? However, the men can answer as to whether their spouse has ever worn a bikini in public? OR at least answer as to whether they approve of women wearing bikinis.
6 responses

• United Kingdom
12 Dec 15
I used to wear bikinis but I wouldn't now, to be honest I wouldn't wear any swimsuit in public now, not without a sarong or beach dress over it x

• United States
13 Dec 15
It's been several years since I've gone swimming or put on a swimsuit. The last time I wore a swimsuit was to get in a Hot Tub at a resort.

• United Kingdom
13 Dec 15
@IreneVincent
That is probably the last time I did as well there was a sauna and a steam room in my old job but that was about 4 years ago x

• Greece
15 Dec 15
I visited a friend on holiday a few years back and wore my two piece swimming costume and joined her in the sea. She was obviously surprised and told me that her mother (she was young enough to have a mother my age) would not be seen in a bathing costume now and for that reason did not even go into the sea any longer. The mother lives in South Africa I believe. She almost gave me a complex.



• Garden Grove, California
12 Dec 15
Yes they are nice when a woman has a lovely shape very true.

• United States
13 Dec 15
@inertia4
Nothing wrong with that at all. There are plenty of beautiful women AND men to admire. Beauty however, as we know, is only skin deep. There are many people who are also beautiful on the inside as well.


• Garden Grove, California
12 Dec 15
me i n a bikini I have more respect for the onlookers to bare m y large rear to the public eyes in a bi kini I leave that to those who are pretty and very shapely IL have never worn one nor will I lol.

• United States
12 Dec 15
Bikinis I guess, should be worn by those who feel comfortable wearing them. I've seen all shapes and sizes in bikinis and I guess they all felt comfortable enough to wear them. That's the important thing, I suppose. Onlookers beware. Hah!

• Greece
15 Dec 15
You might wear one if you came to Greece, the ladies here don't seem to mind whatever size they are. I am amazed at how big a bikini wearer might be.

• Greece
12 Dec 15
I used to, now it is a two piece that covers up a lot more. I remember the first time I wore a bikini, I was on a boat going to Nigeria. It wasn't very brief by today's standards but I felt very shy about it.

• United States
12 Dec 15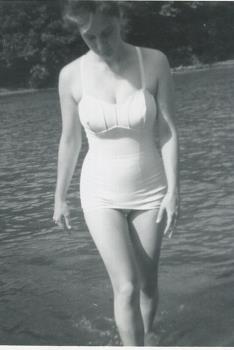 I mostly wore a one piece. This is a picture of me when I was about twenty.


• United States
15 Dec 15
In my younger years I did wear a two piece bathing suit but I don't think it would be considered a bikini since it covered more. Of course I'm too old now to even consider wearing one LOL