Bread: the Staff of Life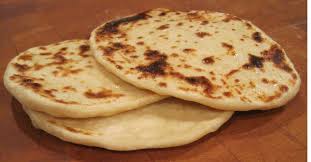 Saco, Maine
December 14, 2015 6:32am CST
My mother often used to say that, if you only have bread to eat and nothing else, you will never starve. She also never ate a meal that didn't include at least one or two slices of bread on the side. While I don't do that, I do still love bread in all its many forms. And the marked-down bread rack is one of the first things I go to at my local grocery store. Last night, I watched a few Jacques Pepin cooking shows on PBS. He's long been one of my favorites, as I love his low-key and very practical approach to cooking. He takes his time and really enjoys what he's doing. And even when he's preparing foods I don't care for, I'd almost be willing to try them if only for how good they look in his hands. On one show, he made what's called Tibetan skillet bread. It's a very simple recipe comprised of flour, water, baking powder, salt and olive oil. You make this into a sticky dough and pat it into a non-stick pan that's been coated with oil. You then pour a little water around the edges of the dough so that it steams rather than fries. It takes about 15 minutes in a covered skillet, turning the dough once after 10 minutes, to finish it on the other side, and is best eaten hot. It looked so delicious that I plan on trying it as soon as I can find a covered 10-inch skillet somewhere. Years ago, I tried my hand at making tortillas. Unlike store-bought varieties, mine came out like fry-bread, all nice and puffy and delicious. I've also made fried dough for my kids using refrigerated bread dough from the supermarket that I just rolled out and shaped into small rounds. And I've made what's called chapatis, a very thin flatbread that is common in the Far East. Bread has also been memorialized in literature, first and foremost in the Gospels at the last supper and on other occasions when Jesus broke bread with his disciples. And J.R.R. Tolkien placed great emphasis on the lembas bread that Frodo and Sam ate all along their terrible journey to Mordor. It is the staff of life, and I love that we are able to enjoy it in so many delicious ways!
6 responses



• Saco, Maine
14 Dec 15
I am going to make some yeast bread, too, after the holidays. There is nothing like the smell of it baking, and you can make a meal out of it with butter, jam, or dipping it in warm olive oil and garlic. There is no end to what you can do with bread!

• Canada
14 Dec 15
@Raelove
I agree, and I usually make some bread from scratch in January. My hubby has to help me with the kneading of it because my back usually gives out on me half way thru that process, but the end result, it is a winter tradition to enjoy around here!

• Saco, Maine
14 Dec 15
@Juliaacv
That is why I LOVE LOVE LOVE my KitchenAid stand mixer. It has a dough hook that does all the work. Once I take the dough out, I just pop into a bowl to rise, etc. And that's it. If I wanted to, I could whip out bread everyday with that thing. Mix, rise, rise, and bake. Did I mention that I love it?



• Saco, Maine
14 Dec 15
That was my problem, too. Not rolling the dough out thinly enough. They were still good, though. Fluffy and light.

• United States
14 Dec 15
All this low carb diet craze has deprived people of bread the staff of life.

• Saco, Maine
14 Dec 15
I've never been a low-carb fanatic. I eat what I want and try to balance it all out. I will never stop eating anything just because someone says it's bad for me. I've seen health fanatics die of cancer just like the rest of us do.

• Bunbury, Australia
14 Dec 15
I just loved the bread in France and Germany but it was invariably served without butter. The bread here just isn't the same.

• Saco, Maine
14 Dec 15
Butterless bread would ward off starvation, but I much prefer it WITH butter!

• United States
14 Dec 15
We are bread lovers and it's probably one of our downfalls. Too much isn't too good. We try new recipes and recently found a few that were easy and the bread was good.

• Saco, Maine
14 Dec 15
I know what you mean. I try to combine a bread meal with a green salad or a veggie, and often don't even have meat. Or, I have bread with soup so I can dip it into the broth.