All Hail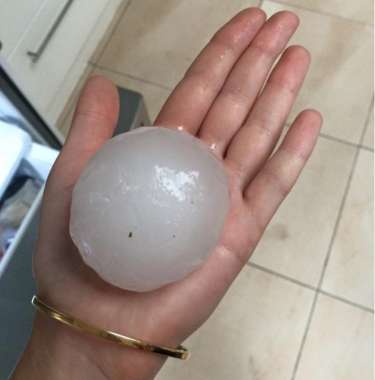 Malaga, Spain
December 16, 2015 5:22am CST
I just read about a tornado that caused damage in the Kurnell neighbourhood of Sydney, Australia, recently. There were accounts of hailstones the size of grapefruit, a picture in the local press from NSW SES Sutherland Shire on Wednesday, attached gives you an idea of just how big these hailstones were! Hailstones where I live in Ireland sound and look like someone emptying buckets of white gravel over the roof of the house, an inconvenience rather than a threat to life or limb. Getting caught in a sudden shower of stinging, icy hailstones is no fun! Like ball-bearings on the ground, they make walking tricky and rapidly bring a pink glow to any exposed flesh that comes into contact with them. What fell in that Sydney suburb compares to the baseball-sized lumps of ice that had drivers on an interstate in Minnesota parking under the cross-bridges to avoid any further damage to their cars a few years back... Mother Nature can be a harsh mistress!
7 responses




• Malaga, Spain
16 Dec 15

Ein schweres Hagelunwetter hat erneut den Landkreis Reutlingen heimgesucht. Vor allem betroffen war die Gemeinde Sonnenbühl bei Genkingen und Undingen auf de...

• United States
18 Dec 15
I am sure quite a bit of damage was caused by those balls of ice! They look large enough to cause roof damage and kill any unsuspecting animal or even human who got caught out in it.

• United States
21 Dec 15
@pgntwo
I did go check it out. I feel really bad for the person stuck in the car and the windshield looks as if it is going to give at any moment!

• Malaga, Spain
21 Dec 15
@Shellyann36
You would not be safe inside a stationary vehicle with hail that size plummeting down around you...


• Newton, North Carolina
18 Dec 15
Dang, look at the size of that thing. I have never seen a hail stone that large! We usually get a lot of tornadoes in NC, but it's been nice for a couple of years.

• Newton, North Carolina
19 Dec 15
@pgntwo
I always thought the weather was mild in Ireland. I hope to visit there someday. My Coyne and Snow ancestors are from County Roscommon and Westmeath or is it Westheath?

• Malaga, Spain
19 Dec 15
@Pattitude
It is Westmeath. No tornadoes, lots of rain - it is pretty mild most of the time.



• Alicante, Spain
19 Dec 15
blimey.... a hail stone that size would definitely do some damage.... scary....


• Preston, England
16 Dec 15
wow hail that size could kill - pretty scary