Chewy Nut Squares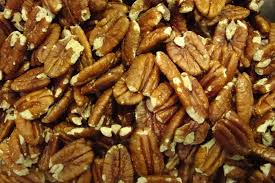 Saco, Maine
December 18, 2015 6:13am CST
Many years ago, I came across a very simple recipe for one of the most delicious cookie bars I've ever had. Calling for just a few simple ingredients, it takes no time at all to mix and only 20 minutes to bake. The original recipe was titled Chewy Walnut Squares. But while I do like walnuts, I much prefer the slightly sweeter taste of pecans. So when I made these bars last night for the community Christmas party today, I substituted those. An egg, brown sugar, baking soda, salt, vanilla extract, flour and nuts complete this recipe. It makes an 8-inch square pan-full, but could easily be doubled to a 13 x 9-inch pan for a crowd or a bake sale. And believe me, they wouldn't last long at any event! They are as the name implies: chewy. When they come out of the oven, they're still a little soft in the middle. But as they cool, that hardens a bit to an almost pecan-pie consistency. The nice thing about the recipe is that it contains no butter, but you would never know this from how buttery they taste. I of course had to sample the first bar before putting the rest on a serving plate, just to make sure they were good. I was once again not disappointed and will be making them with pecans from now on.
6 responses


• Saco, Maine
18 Dec 15
They taste like taffy bars, but are a lot easier to make.


• Saco, Maine
18 Dec 15
I can private message it to you, Anna, if you like.

• Saco, Maine
19 Dec 15
@LadyDuck
OK. I will do it in just a few moments for you. My pleasure.


• United States
18 Dec 15
Since I can't eat nuts I'll have to take a pass...enjoy!

• Saco, Maine
18 Dec 15
You can make them without nuts. They're just as good and chewy. I'd even go so far as to add a few chocolate chips, if you can eat them. If not, just leave those out, too!

• United States
18 Dec 15
@Raelove
thats a thought, I'm just so used to skipping over 'nutty' things!

• Saco, Maine
18 Dec 15
@AbbyGreenhill
No need to deprive yourself. They might turn out a bit thinner in the pan, but will still be chewy and delicious. And they're so darn easy to whip up and bake. I can also see folding in a few dried fruits, such as raisins or dates. I think dates would be good, because they'd "fit" the sweetness of the bars, and you wouldn't need many as long as they're chopped finely.


• Saco, Maine
18 Dec 15
I prefer pecans, but I do occasionally use walnuts, too. Some baked goods just cry out for nuts of some kind.

• United States
18 Dec 15
I would eat all of them at once I am sure..sound so tasty and nice and hot.

• United States
18 Dec 15
I used walnut in my anisette toast.It calls for almond.But did not have them on hand.