Vitruvian Man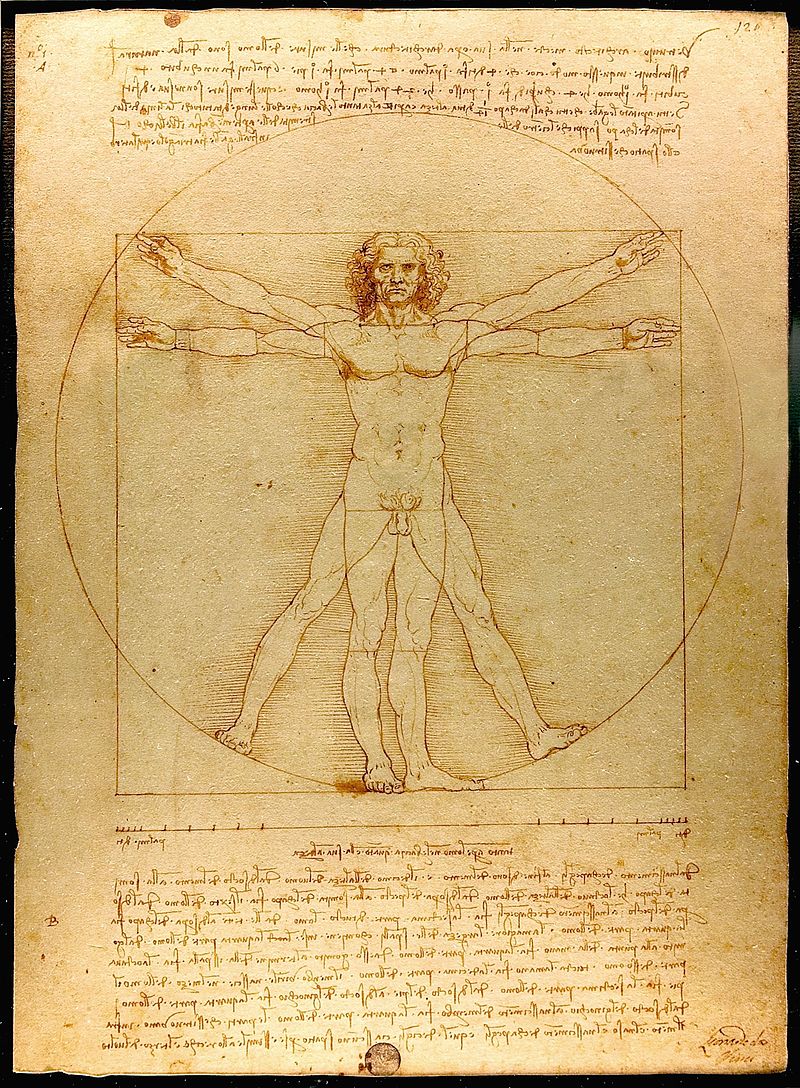 Derry, Northern Ireland
December 18, 2015 11:00am CST
A discussion earlier sparked some thoughts about a drawing made some 5 centuries ago by the renowned Italian artist and inventor Leonardo da Vinci, a sketch now commonly referred to as "The Vitruvian Man". This sketch demonstrates the perfect proportions for a healthy human male, and is heavily annotated to show relative distances and measurements thereof. It has been the focus of study for generations of students of art, architecture, anatomy and design ever since. Leonardo da Vinci took his inspiration from notes by a Roman civil engineer and architect, Vitruvius, who lived in the first century BC, hence "Vitruvian". The nude male figure is sketched arms akimbo, with the navel at the center of a circle that the fingertips and feet touch. The figure is also sketched in a square, where the distance from head to toe matches the distance between the middle fingertips when the arms are outstretched at the sides of the body. A line bisecting the center of the square horizontally passes across the pubis. The two images are superimposed. The Vitruvian Man is featured on the rear of the Italian €1 (Euro) coin, although the coin attempts to give some depth to the image, requiring the removal of some detail from the original sketch. What better way to hono(u)r the original than to have it on national coinage? That a sketch has been so widely studied means there are many re-interpretations out there, some with quite accurate representations of the male, and sometimes female, anatomy. In appreciation for all that this image has inspired, the World Science Festival in 2014 created the attached video. I wonder what Leonardo would think if he were alive today to see how his sketch has been used and what it has inspired...

Leonardo da Vinci's 'Vitruvian Man' outlines the ideal anatomical proportions of a healthy male figure. But perhaps this outline needs a bit of a modern upda...
7 responses

• El Paso, Texas
3 Jul 16
He made it seem as if the human body was perfectly proportioned yet so often we are not. So many ancients contributed to Leonardo's inventions and theories. Isn't it funny how we think we're so advanced yet the ancients had an understanding of things we have yet to understand? I think Leonardo knew that.

• El Paso, Texas
3 Jul 16
You can count on it
@pgntwo
he got many of his ideas from Ancient Romans and Greeks so it is very likely that in about 500 years we'll see another with that kind of insight ..... OR perhaps someone in this era is similar to Leonardo but we don't know it yet, it could be that it will take a few hundred years for this person to be discovered.

• El Paso, Texas
3 Jul 16
I didn't notice that
@pgntwo
but then I'd seen this image since I was a child and mom always explained it was a diagram for doctors to learn by.




• Ireland
18 Dec 15
@pgntwo
Vitruvian man looks a bit cross. I'm not sure how I'd measure up if he is the perfect specimen, but I am relieved that the modern model in the clip was provided with a stout pair of underpants.

• Derry, Northern Ireland
18 Dec 15
The original leaves little to the imagination too, despite the stern visage!
https://upload.wikimedia.org/wikipedia/commons/2/22/Da_Vinci_Vitruve_Luc_Viatour.jpg

• Ireland
18 Dec 15
@pgntwo
Fig leaves would have spared Leonardo the indelicacy of having to sketch such intimate detail.


• Derry, Northern Ireland
18 Dec 15
@LadyDuck
Interesting information - so Leonardo got his inspiration from something originating many centuries earlier! I've added a bit in to reflect this information, thanks! Today, it'd be sunk in legal disputes for decades


• Aurora, Missouri
7 Jul 16
Hmmm... very interesting, pgn! I've seen the image many times before, but never realized that was supposed to represent the perfect male measurements.

• Boise, Idaho
18 Dec 15
I was just recently listening to a doc about da Vinci's "The Vitruvian Man" and the theory that he did all his portraits and such of himself. I wonder what he would think too.

• Boise, Idaho
18 Dec 15