Puppies Everywhere!!!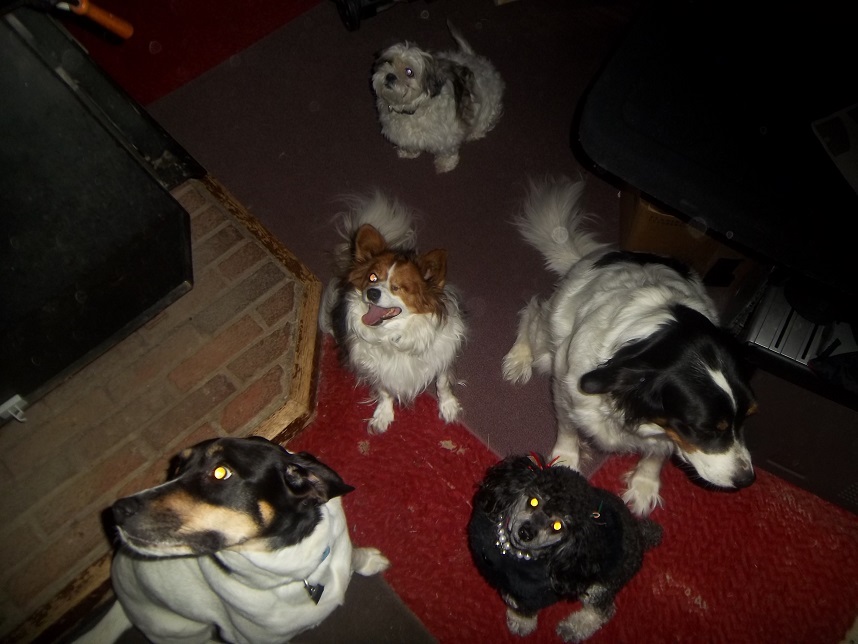 United States
December 20, 2015 6:16am CST
Well, not really puppies, the youngest is over 2 years old, but for a short time, Friday, I was dog sitting for 5 dogs. As most of you know, the two biggest ones are mine, Penny and Ciara, and that the small black and cream color poodle is my grandogger, but the other two are my neighbor's and her daughter's dogs. The papilion mix is Zori, she is the one who we suspect was abused because in the beginning she was very scared and her one front let is bent wrong, like it was broken and not taken care of. Then there is Lily, the shih tzu who needs a good grooming. She is the youngest. Here is a clearer list of the dog and their name: Starting at the top, left-right: Lily, Zori, Ciara, Penny, and Menchi. Needless to say, Penny and Ciara have been on their best behavior. This is the first time they met Lily and they are terrified of Zori (Though she is getting better, she still lets some know she isn't one to be messed with) I have dog sat for many dogs, but this is the first time I had this many at once and I'm glad it wasn't for too long, because trying to keep my eyes on all these dogs was not easy. Do you dog/cat sit? (I also cat sit sometimes) What is the most you have watched?(including your own) Any tips on how to make this easier? (I forgot to mention, my neighbor's dogs are not that well housebroken, at first I had problems with Zori, now it is Lily)
5 responses

• China
21 Dec 15
Happily they lived in peace with each other ,especially Ciara and Penny were in a manner that keep open house .

• United States
21 Dec 15
Well, interesting enough, Lily is the alpha over Zori, but Zori is the alpha over Penny and Ciara (Menchi wasn't here long enough, but when it comes to Penny and Ciara, she is an equal) , so I guess they didn't know who was in charge, except for I know I was.


• China
22 Dec 15
@Carmelanirel2
Those dogs are from different family and have their own habit ,so it is difficult to dog sit them .

• United States
23 Dec 15
@changjiangzhibin89
I don't think it was too bad, because especially with that many dogs, I let them know I am in charge. I still have Zori until tomorrow, the house will feel pretty empty once she is gone.


• Louisville, Kentucky
20 Dec 15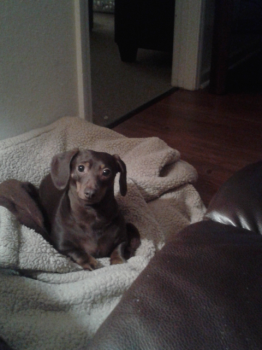 We have two dogs and Bella is the oldest. She doesn't always get along with adult dogs so we wouldn't ever be able to dog sit for anyone. Now, if they were puppies, she is okay with them. She also hates cats so that would out of the question. I've included a picture of Bella. She is such a sweetheart.

• United States
20 Dec 15
Yes, Bella is adorable. Sorry she doesn't get along with other dogs, bit I guess with her age, she has that right.


• Louisville, Kentucky
28 Dec 15
@Carmelanirel2
She got into a fight once with a pom who started the fight but Bella finished it. We might be lucky and find an adult that she will get along with one day as I don't want another puppy. From now on we will adopt from a shelter but I doubt my brother will let me have anymore dogs.


• United States
20 Dec 15
Granddogger, I love it. You may remember, I don't have any animals at the moment. I've never personally had to dog sit, but I wouldn't mind it at all. As for tips on how to keep better watch on them all? Provided the weather is decent enough, a lot of yard play to tire them out might help.

• United States
20 Dec 15
The weather has been pretty cold lately and that means only Ciara would enjoy it. Ciara is my snow puppy, she will literally lay ikn the snow and won't come inside until she is good and ready.

• United States
20 Dec 15
@Carmelanirel2
Here in NC the weather has been erratic as always.It has turned chilly the last two mornings though. Funny how two dogs brought up in the same home can be totally different from one another.

• United States
20 Dec 15
@ScribbledAdNauseum
They are also literal sisters, Ciara has long hair and Penny is short hair.


• United States
24 Dec 15
I love dogs and you had a herd of them. I have never doggie sat but I would be willing to.

• United States
24 Dec 15
I have dog/cat sat in this area for about 13 years. I have also had some pass away which broke my heart as if they were my own. Now that I no longer have classes, I might get more people wanting me to dog sit.

• United States
26 Dec 15
@Carmelanirel2
What a wonderful thing you do pet sit. That sounds like a great job.

• United States
27 Dec 15
@whiteream
It is, especially during the time I was between pets, because in my mind, my neighbor's dogs were my adopted dogs..lol I told my neighbor's this too, I think they knew I was lonely for a dog again and now I have my two who are wonderful regardless of when I complain about them..



• United States
20 Dec 15
Actually, my two, Penny and Ciara bark at anything, including the neighbors pulling into their driveway, Zori's bark isn't that loud, but the worse is Lily's. She doesn't bark at anything, but if she is left alone, her bark sounds more like someone is beating her, it is that high pitched. As for taking them for a walk, no, especially Menchi who wasn't here for more than an hour. My dogs have a dog run, Zori can't walk long due her bad leg and Lily, she was only here a day and a half, but I did take her to my daughter's shop where she got to run around. (Oh, and you are very observant. They are only in this position because my husband had treats for them if they sat still long enough for a picture.)