Santa Tracking On Christmas Eve!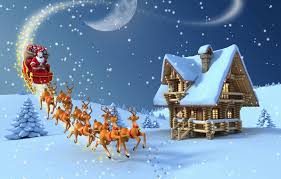 Sudbury, England
December 24, 2015 2:24am CST
O.K kids it's time to start Santa tracking, as his sleigh passes around the world, loaded with gifts on their way to you. The North American Aerospace Defense Command (NORAD) and Google will help you track Father Christmas on Christmas Eve. Norad are really the US airspace trackers, and Santa's journey can be followed on their website, with around 1300 Elf volunteers answering kids calls, of which they expect around 120,000. Santa tracking starts at 8am GMT, Christmas Eve Google used to partner with them, but now run their own service here:... santatracker.google.com/#village Happy Christmas to all, around the world on myLot
6 responses

• Manchester, England
24 Dec 15
So you will be stalking Santa this year. Apparently he is 18,721 kilometres away from me yet, so I do not expect him for a while. Of course he will probably miss me out as he usually does, but if I can monitor him closely enough and discover when he arrives in my street I can get my own back on him. While he is delivering the presents I may feed his reindeer with laxative chocolates.

• Sudbury, England
24 Dec 15
@Asylum



...You have an exceedingly cruel streak in you, I'm not surprised he tries to give you a miss...did you also pull wings off butterflies as a kid? Your mention of Chocolate laxatives, brings back a horrible experience of a 4year old child...who has been skinny ever since ~~~~

• Sudbury, England
24 Dec 15
@Asylum
Could be he's just sick of the usual Xmas fare... try a salmon vol au vent and a glass of champagne, maybe you can tempt/bribe him



• Banks, Oregon
24 Dec 15
Merry Christmas and, happy new years, we will have milk and, cookies waiting for Santa.

• Sudbury, England
24 Dec 15
@TRBRocks420

and Merry Xmas to you and yours, hope the weather's better, we have wet and windy and that's something of an understatement


• Banks, Oregon
24 Dec 15
@bookbar
Weather is terrible here too, that's what ours has been, now we have 6 inches of snow, which can be even worse, if it decides to freeze or keep snowing I hope it stops.

• Malaysia
24 Dec 15
I just found out this Santa Tracking yesterday. I am wondering where Santa is now. Merry Christmas and Happy New Year to you!!


• Sudbury, England
24 Dec 15
Wherever he is...he's on his way!...Happy Christmas to you and yours


•
24 Dec 15
Father Christmas is going to be exceedingly intoxicated by the time he gets to my house. I'm always amazed he manages to get round the whole wide world.

• Sudbury, England
24 Dec 15
@Poppylicious
Nor get out of his sleigh after all those mince pies, never mind squeezing down chimneys... wonder how Rudolph feels after a million carrots and an Orange body, think his Red nose may have been misrepresented



• Sudbury, England
24 Dec 15
@Plethos
I'm sure they do, if not, there's an opening for you to create one..


• Ft. Lauderdale, Florida
25 Dec 15
He is due here in 1 hour and 39 minutes--I'm waiting!!!