No Bread Today – How to Make Stuffing On Christmas Day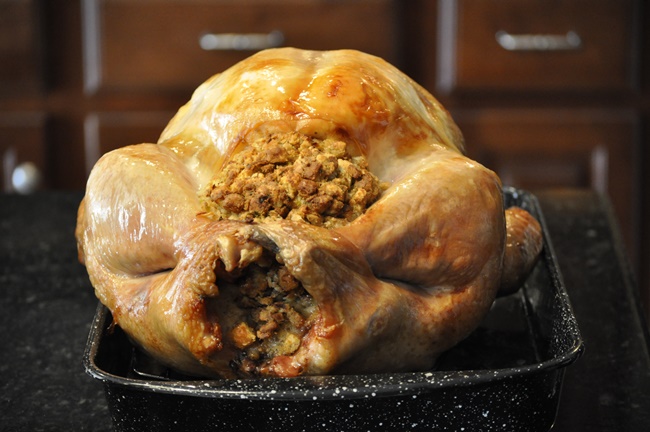 French Polynesia
December 25, 2015 2:22pm CST
No baker wants to stand up at 3 AM and cook fresh French bread and deliver it to the markets. Well can you blame them I can't? But considering I was looking forward to making a little bread stuffing for the turkey my plans have changed. Last night we had a traditional island feast for Christmas Eve. I had to bring in a person to help out and he comes from the US. So the 4 of us decided to give the folks here a bit of a traditional Christmas feast and have turkey, stuffing, baked Tahitian potatoes, fresh salad, hot fresh baked rolls, fresh broccoli, turkey gravy and a few other dishes. Now here comes the best one. I don't need bread to make a stuffing. I have used rice in the past and it has made a delicious stuffing for the turkey. So today it is time to get creative and make a rice stuffing to fill in the belly of the turkey. We are on an island that only gets supplies twice a month. So there is no corn bread, apples or other thing to use. I have some left over bread from last night and will roast this up in the oven and cook the rice. Mixing the two of them together with some onions and celery will make the perfect addition to the turnkey for tonight. Guess what guy there is no Stove Top in Tahiti.
6 responses

• United States
25 Dec 15
Stove Top is horrible.... I make my own - I even made my own bread cubes for Thanksgiving..but I don't stuff the bird...it makes it too greasy for me. Your dinner sounds good..what are Tahitian potatoes?

• French Polynesia
25 Dec 15
They are a purple colored potato and they are so sweet. You need to boil them and not bake them. I love them so much and I eat them with coconut milk, butter, salt, and pepper. No don't worry I will make my own stuffing I just need to be a little more creative because all the bread we bought yesterday was eaten last night and the rest this morning for coffee.

• French Polynesia
26 Dec 15
Just to let you know my rice and stale bread stuffing was a major hit on the table tonight. There was nothing left of it at all. Everyone loved the onions and celery I put in this and thought it was so good. They don't have all the seasonings I have at home but I made due with what was here. The gravy was gone and so was the turkey, potatoes, and broccoli. There wasn't much to put away when they got done eating. It was delicious and everyone was so impressed and happy.

• United States
26 Dec 15
@poehere
Then you and your dinner were both successful. Good for you!


•
25 Dec 15
HOW TO MAKE STUFFING ON CHRISTMAS DAY Be lazy and wait for the women folk to get the food ready. Sit down at the table. Fill your plate. Empty. Repeat 7 times. By now, you should be stuffed.


• French Polynesia
25 Dec 15
That has got to be the prize winning recipe for Christmas stuffing. Maybe I can try this one but it is sort of hard because it is me cooking the stuffing to stuff you.


• Toronto, Ontario
25 Dec 15

* throws plate
@PhredWreck
*

• United States
26 Dec 15
Stuffing out of rice is very creative.

• French Polynesia
26 Dec 15
Thanks I thought so too. BTW after I finished it and got it into the bird everyone was around the pot with a fork in hand. I thought we would put this on the table but sort of looks like there isn't anything left of it after all.


• Boise, Idaho
26 Dec 15
Sounds like a great feast. We had pork this year and it was delicious.Didn't need stuffing. Yum!

• French Polynesia
26 Dec 15
That sounds wonderful. We had that last night with the large family. Here tonight it is just the ones here in the house. We did the big dinner last night and this one is only for us tonight.

• Boise, Idaho
26 Dec 15
@poehere
...Our dinner was very good. Tasty.

• French Polynesia
26 Dec 15
@celticeagle
Oh man so was ours. I don't think they was hardly anything left on the table to put away. They picked the bones clean on the turkey I cooked. It was so good. My rice and stale bread stuffing was a major hit tonight at the table and everyone loved the gravy I made for dinner too.


• French Polynesia
25 Dec 15
You've got this one right. Here it is home made all the way or no way at all. So at times this calls for creative measures and sort of looks like today is one of them.

• Toronto, Ontario
25 Dec 15
Sounds delicious! I am sure everyone would not have an issue with the meal if they didn't get stuffing. Hope you had a good Christmas, and everyone enjoyed their meal.

• French Polynesia
25 Dec 15
I haven't made it yet. It is till early here on the islands and I won't basically start cooking for another few hours. But I am sure they will love it. Right now the turkey is defrosting - which won't take long in this heat. We are all sort of being lazy today and just sitting around playing music and singing. It is a lot of fun around around 2 or so I will go and start making a few things. The turkey we have is a smoked one so it won't take long to cook this. Around 2 hours is all it will need.