Multifunctional Pot

Daytona Beach, Florida
December 28, 2015 12:28pm CST
As usual we didn't gift each other but instead agreed on a mutual gift. It was a multi functional pot which boils, bakes, sautés and fries. I have to see what else it can do but I know that it works just fine. It is so quiet that you turn it on to the timer and it takes care of all the cooking and just turns off keeping everything warm. Until I get used to it at first I thought it wasn't working because there was no sound. Today I baked an apple cake in it and it looks like such a small, round and delicious cake. I love this pot and will have to do more experimenting on it. You can find information about these pots online.

KAM YEE MAN CHEONG multi-functional cooking pot keeps 8 functions in 1 pot. Deep fryer, braise, steam, grill, fry, roast, slow cook, fondue. Easy to handle, ...
10 responses

• Ft. Lauderdale, Florida
29 Dec 15
Reading the title I thought you were going to talk about another kind of 'pot'!


• Louisville, Kentucky
29 Dec 15
@GreatMartin
So was I Martin!


• Ft. Lauderdale, Florida
31 Dec 15
@simone10
Brilliant minds think alike!!


• United States
29 Dec 15
Sounds like a great gift and glad it is working for you. I like experimenting with appliances like that when i get one

• United States
29 Dec 15
That pot certainly looks amazing and I'm intrigued by how many things it can do

• Daytona Beach, Florida
8 Jan 16
@Marilynda1225
the pot is working out just fine and I am so happy. I put in food turn on a function and in a short time I have a meal.


• Pattaya, Thailand
31 Dec 15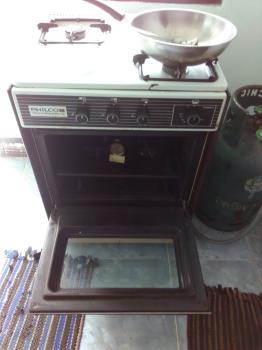 Looks like a good tool for the kitchen but for me, I prefer my good old wok. Serving me proudly for eight years. I can drop it (have) and it does not break and beat it when it does not cook correctly (of course that is never my fault). Seriously, I did watch the video and it looks tempting!

• United States
29 Dec 15
I do not think I have seen nor heard something like that before. I like to cook and that is something that I would like to have. Unfortunately, we do not have a big counter space in the kitchen, or space in the cabinets that the boyfriend will be ready to wring my neck if I add another kitchen appliance that "we just got to have".


• United States
28 Dec 15
That is a wonderful investment Sandra! It can do so many functions and you will be using it all the time I imagine. I bought us a roaster that can do some other functions as well and am extremely pleased with it.

• Laguna Woods, California
31 Dec 15
That's an amazing pot! You will have to let us know how you like it in another couple of months.

• Daytona Beach, Florida
8 Jan 16
@DeborahDiane
right now I adore it but yes, let's see how it is down the line.

• India
29 Dec 15
This sounds really interesting . I am hearing about such pot for the first time and long to buy one. I will find out the details from the net and if i can afford to it then definitely i will buy one for my use