When Enough, is not Enough.......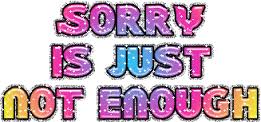 India
January 4, 2016 12:39am CST
Hello my dear MyLotter, as my Discussion title suggests, when can you say that enough is not really enough'? Did you encounter that already in real life situation? It's the common attitude of some people when after you've extended a helping hand they're not contented, still wanted to get more of what you have. Some are abusive and some are simply insensitive that because he/she wanted to ride on you whatever it takes just to be in the limelight. I felt irritated, but still need to control myself.. If it seems he/she really taking advantages on you, what will you say to stop it..
4 responses

• Perth, Australia
4 Jan 16
I don't have that many friends which I am fine with but for the ones I do have, there are about 2 people who I can't be bothered trying to help any more for they aren't exactly all that nice to me. They have a history of using me and taking me for granted so if they need help I don't really offer my help. If they ask then yeah but I wont go out of my way to help them. But for my family and my best friends then yes. I would do ANYTHING and everything to help them since they genuinely do care about me and help me whenever I need it.

• India
5 Jan 16
yes we can do anything for those who are close and we know they not cheat us or take advantage of it so its good and i am happy with your thinking monalisa...

• India
4 Jan 16
Now...I treat it as a lesson to me. I help only those who genuinely need help. I am quite open about it. When they try to hard sell themselves, I listen patiently, and at the end of the problem, I simply tell them, I intend to help the orphans since they have nobody to turn to, or destitute elderly. The message goes in their brain loud and clear.

• India
5 Jan 16
i am very happy as reading your comments that you like to help orphans and sometimes some people take advantage and when we know its feel bad.. anyway happy new year and have a nice day my friend..

• India
5 Jan 16
@birjudanak
..It is greedy and cheap on part of people to expect help when they have everything going for them.

• India
5 Jan 16
@vandana7
yes you are ,as one side we want to help them and if fail then blame us that its happened due to you....


• Philippines
4 Jan 16
I am a person who chooses who to help. When i know that the help will be a series after one help , at the first time i will tell the person that it will be the last if i came to know that the money is used for leisure .

• India
4 Jan 16
i know you are very helpful person but if someone take advantage of it then how we feel so at third time we have to tell them that i am nor speak anything because we are friends but it not means you ask every month...

• Philippines
4 Jan 16
@birjudanak
Oh you are a kind friend . But as a friend , you have to tell him that it's not good always borrowing money just to buy those online "wants" he orders.

• India
4 Jan 16
@SIMPLYD
yes and my parents said that when money matter comes in between relation then it create problem so dont take or borrow anyone whom you cant trust otherwise forget money because it break relationship..


• Philippines
4 Jan 16
it happened to me too.. when you are just trying to be a good friend and then they abuse it.. it's sad, it's disappointing and i've learned my lesson..

• India
4 Jan 16
its very painful that we are trying to help them but they just ignore it so they never satisfied what we do...