Parents are so tired...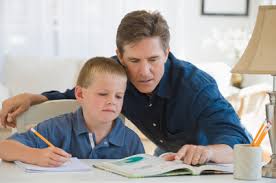 Guangzhou, China
January 6, 2016 8:03am CST
The final exams will come soon. So lately the study pressure is higher, but today I even heard a ridiculous news from my colleague. Her child is grade 4 pupil now. And the teacher will give them the exercise paper as the homework and ask the parents to correct it. It is fine in my opinion. As I thought the teacher will give parents answers and they will correct the exercises, so that the teacher will not spend more time on it. It is OK to help. However, my colleague told me that the teacher didn't give them answers. Namely at night the teachers have to do the exercises by themselves so that they can see whether their children's answers are correct or not. Grade 4 pupil's maths is already not that easy. At least you can't just see whether it is right or wrong by a glance. You also have to read the questions carefully and then find the solution. I am so sorry for those parents as in daytime they have to work and at night they have to do the exercises. Fortunately my son's teacher doesn't have this request. I just need to sign up my name on every of my son's homework and make sure he finished all of them. But if my son has many mistakes, I will feel embarrassed because the teacher will blame that I don't check it. It is really tiring to be parents in China.
7 responses

• El Segundo, California
7 Jan 16
I admire such strategy of education in China. In the Philippines, I haven't heard of such things being done even by a single school.

• El Segundo, California
8 Jan 16
@youless
then why no one had done a boycott or rally?



• India
6 Jan 16
@youless
so do they really use the phrase "made around the corner" in china? Some people just take parenting too serious. Not a very good idea though hey

• Guangzhou, China
7 Jan 16
@BluestEye
If you don't parent your children, then next day your children will have a hard time in school.


• Northampton, England
6 Jan 16
So free extra education for the mums and dads. Possibly a good thing.

• Northampton, England
6 Jan 16
@youless
I'm really good at maths


• Guangzhou, China
6 Jan 16
@boiboing
That's great. But can you imagine if their English teachers ask the parents to check the English exercises? Not every parent will be good at English. And in the high school there will be biology, physics, chemistry etc. I can't imagine it in the future



• India
6 Jan 16
Call me a person from the Romantic age but studies should not be this rock hard and just figures. Back to nature just what this world need right now. Aye?

• India
7 Jan 16
@youless
Yes it needs to be more realistic. This system only prepare robots not the real human. Classrooms should be more nature friendly. Well i am not saying that it should be in bush or start living in caves. Well i Grew up in country sides farms and openess , not so much to like in the cemented cities.

• Guangzhou, China
7 Jan 16
@BluestEye
Unfortunately the reality is far away from what we want.


• United States
6 Jan 16
My grandchildren bring home a crazy amount of homework each day and the parents are tired, stressed and angry that they have to spend so much time at night doing homework with their kids. Guess homework has become a universal problem lately

• Boise, Idaho
6 Jan 16
It sounds like it. Glad my grandson doesn't have homework. He is in a special class because he has ODD and is hard to handle.