And It is Finished, First UFO of 2016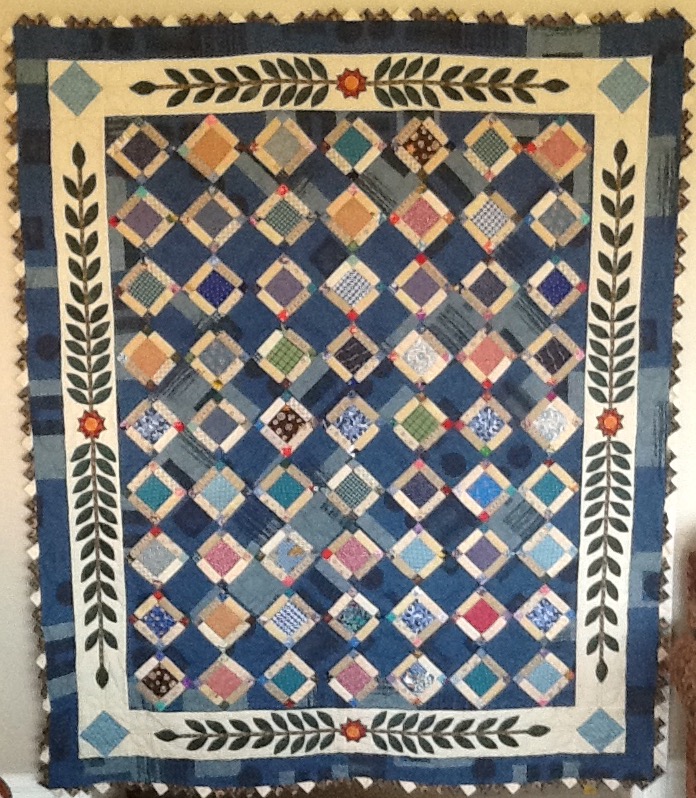 Canada
January 7, 2016 9:51am CST
Finally, after several years or sporadic attempts, the quilt is finished. This morning I sewed the last stitch in the binding and then found a label and sewed it to the back of the quilt. Now on to one of the many other UFO's that are waiting for me to get to them. To the uninitiated a UFO is an UnFinished Object. Most of us have several waiting in queue to be finished. I personally have, a baby quilt that is half quilted (my next project to finish), a table runner waiting to be quilted, six quilt fronts waiting to be sandwiched, pinned and quilted...four by hand, three by machine. Then there are the partially sewn quilt fronts and quilt patches...... Maybe I should get back to work and finish some of these projects. I will try to post my progress as I reclaim my sewing room.
10 responses

• United States
25 Mar 16
that's it! i'm gonna need to move closer to yer location 'n visit oft to pick yer brain :D i love the colors 'n design'f this quilt. i've yet to attempt those lil triangle thingies'n the edge...'its peaked my interest e'en more though seein' what'cha did here. i don't allow myself ufo's 'n won't start nothin' 'til i'm done with what i'm workin'. i'm thinkin' the hubs's the cause'f such? he's more ufo's than i care to mention...i jest hope he manages to get the front'f the house put back 'fore the first'f next year. sigh...

• Canada
28 Mar 16
The prairie points are so easy to do. Once I found instructions and tried it (many, many years ago) at least half my finished quilts have prairie points.

• United States
28 Mar 16
@Morleyhunt
i might've to tackle me some one day soon. i think they're adorable! watched me a view videos 'f folks showin' how such's done. i blame my lack'f tryin' to be plum laziness :D


• Canada
7 Jan 16
Throwing away scraps is too painful for me....back to sewing.

• Canada
7 Jan 16
@Morleyhunt
I have to face the fact they have sat there for years. Anyway, too late there isn't enough time left before hubby returns. I need to make it look like I moved from this laptop at some point!

• Winston Salem, North Carolina
7 Jan 16
Congratulations! My goal for 2016 is to clear out a bunch of UFOs...I guess that means I should go get busy!

• Canada
7 Jan 16
Yup...how soon do you want the quilt frame. There is also at least one hoop I can set aside for you.

• Canada
7 Jan 16
One down, several more to go. Isn't that usually how things go?

• Canada
7 Jan 16
As long as I start less than I finish it should be okay.


• Canada
7 Jan 16
Thank you. I enjoy the process. There is no step I would actually skip if given the opportunity.

• Preston, England
8 Jan 16
neat redefinition of a UFO


• Bunbury, Australia
5 Dec 16
Now I've brought this to your attention again, do you still have any of these items to finish?


• Canada
5 Dec 16
I've finished a lot of UFOs. Unfortunately I've also started a few new projects that aren't complete yet. Right now I'm tackling some Christmas gifts for the grandkids.

• Bunbury, Australia
5 Dec 16
@Morleyhunt
Haha - got sidetracked again! I think it's fine to have UFOs as long as you get to them eventually.

• Canada
6 Dec 16
@JudyEv
I have finished quite a few projects that have been languishing in a box somewhere. Most are at least now in queue to be worked on.




• Canada
6 Dec 16
Thank you. I think this one earned a first place ribbon at the fair.