Who hassles you this morning?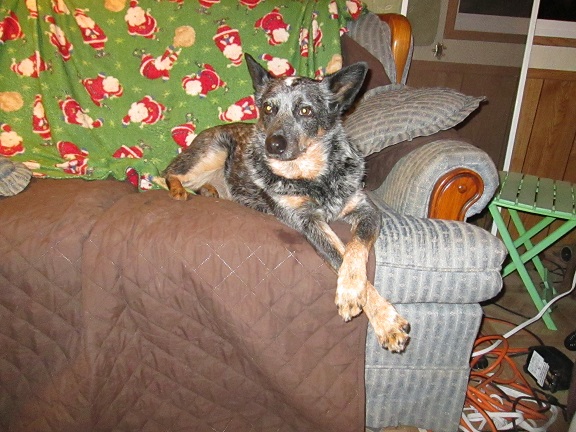 Moses Lake, Washington
January 8, 2016 1:02pm CST
The photo shows you who is hassling me this morning. She brings me a red squeaky ball and brings me a red squeaky ball. On and on. Snatch it out of the air and do NOT hit that antique glass front cabinet. Sally is an Australian Cattle Dog. Some would call her a Blue Heeler. She can't go herd cows so she bugs me with a ball. Her job is to bug me. I have the hands to toss the ball. She has the itch to catch that ball. On we go.
10 responses

• United States
8 Jan 16
She is much like the Sally dog we used to have and her name was also Sally. It brings a tear to my eye to see her. She is a lovely dog Lenore. And her legs crossed so lady like.


• Moses Lake, Washington
8 Jan 16
@tiarasOceanView
: you shared life with a Cattle Dog, too and her name was Sally? This Sally is precious though a pain at times. I'm sorry you lost your Sweetness.

• United States
8 Jan 16
@sallypup
haha yeah she was not a cattle dog, but near enough, a mix breed, but looked much like your dog there. Yes her name was also Sally. She was the best dog we ever had so protective and loving.

• Moses Lake, Washington
8 Jan 16
@TiarasOceanView
This Sally taught us how to play ball when she was 8 weeks old. She probably has ball catching dreams.


• United States
8 Jan 16
Princess the cat is my bug. She wants the bathroom sink dripping for a drink. She wants a treat. She wants me to turn off the cold weather so the sun will come out.

• Moses Lake, Washington
8 Jan 16
@gardengerty
Drinking out of a dripping faucet sounds like a plan. And turning on warmer, sunnier weather sounds super nice.

• United States
12 Jan 16
We are not allow to have pets where we live anymore before they had a pet deposit now they don't want any pets. I don't blame them some people who have animals have damage made by them so it is part of the reason they are not wanted anymore.

• Moses Lake, Washington
12 Jan 16

• United States
12 Jan 16
@sallypup
It's okay on the bright side of no pets it means no more vet bills no more dog food no more freezing cold or hot or wet walks so they go outside. We can go out and stay out if we want to go on vacation and not worry unlike before.

• Moses Lake, Washington
12 Jan 16
@lokisdad
I hear you. We plan to make some road trips this year and will need to do major outreach to get help on taking care of the chickens and burro-donkey.


• Preston, England
9 Jan 16
lovely dog - my cat only bugs me if she is hungry otherwise I might as well not be here

• Moses Lake, Washington
9 Jan 16

• Preston, England
11 Jan 16
@sallypup
I always try though she needs to channel me too

• Otis Orchards, Washington
9 Jan 16
Talking about a pet catching things reminds me of a cat story (I would tell you a dog story, but I can't think of one right now). One day many years ago my cat came home with a mouse it had caught in the field next to where I lived. The cat brought the mouse into the house and let it loose. The mouse raced across the floor. I grabbed a broom and tried to sweep the mouse towards the door. The cat chased after it. The cat finally caught it, took it outside and ate it. A couple weeks later I was talking to the neighbor when the cat came strolling along with a mouse it his mouth. I said to the cat, "You cannot take that mouse into the house. Do you understand me?" The cat stopped and looked at me for a minute, then went over and crawled under the porch and ate the mouse. It was as if the cat understood what I had said.

• United States
9 Jan 16
She did. Cats understand a lot if you make a habit of talking to them. My cat can be whining for something, say she wants us to feed her or wants us to go to bed, and we can say firmly "one more hour. We're not going to bed yet. Or "One more hour. It isn't time for dinner yet." And she will stop bugging us.


• Moses Lake, Washington
9 Jan 16
@ladyduck
We rescued a dog who never cared about playing ball. Then we rescued another dog, our Leah. She was very young so I figured I had a chance with her. She did not even know to look at a human so that was her first lesson. Then she slowly, very slowly, learned that it was okay to play with a human and finally it was fun to catch a toy. Leah continues to not have the ball drive as our Sally but she knows it is fun sometimes to catch something.

• Mechanicsburg, Pennsylvania
9 Jan 16
I wish I had a Sally to hassle me that way - at least until I got tired of it. Then she'd be on her own.

• Moses Lake, Washington
9 Jan 16
@ronelfran
6 years and counting of playing ball....

• Cuyahoga Falls, Ohio
9 Jan 16
Adorable dog. I would have to say my two cats, first thing in the morning.



• Moses Lake, Washington
8 Jan 16
@paigea
What's your feline's name other than Shut Up You!?

• Canada
8 Jan 16
@sallypup
His name was Boston Blackie , now my husband changed it to Darth Vader. He is mainly an outside cat. Maybe he is trying to get me to go outside with him; I don't know. He is happiest when we are outside sitting on the deck; then he comes and relaxes with us. All summer he followed us around the yard meowing loudly. He sits outside the patio and looks in meowing loudly. It's cute that he talks so much but some days - holy smokes!

• Moses Lake, Washington
8 Jan 16
@paigea
Boston Blackie is an adorable name. Some critters love to talk. Our wild child feline gal growls and snarls loud enough for the neighbors to hear her- she has Siamese in her veins. Histrionic and loud baby bobcat!


• United States
9 Jan 16
Mouse-cat. "I want you to feed me. I want you to pet me. Are you going to take a nap yet? Can you turn the heater on? I'm cold." It's funny.