I finger knitted another "scarf"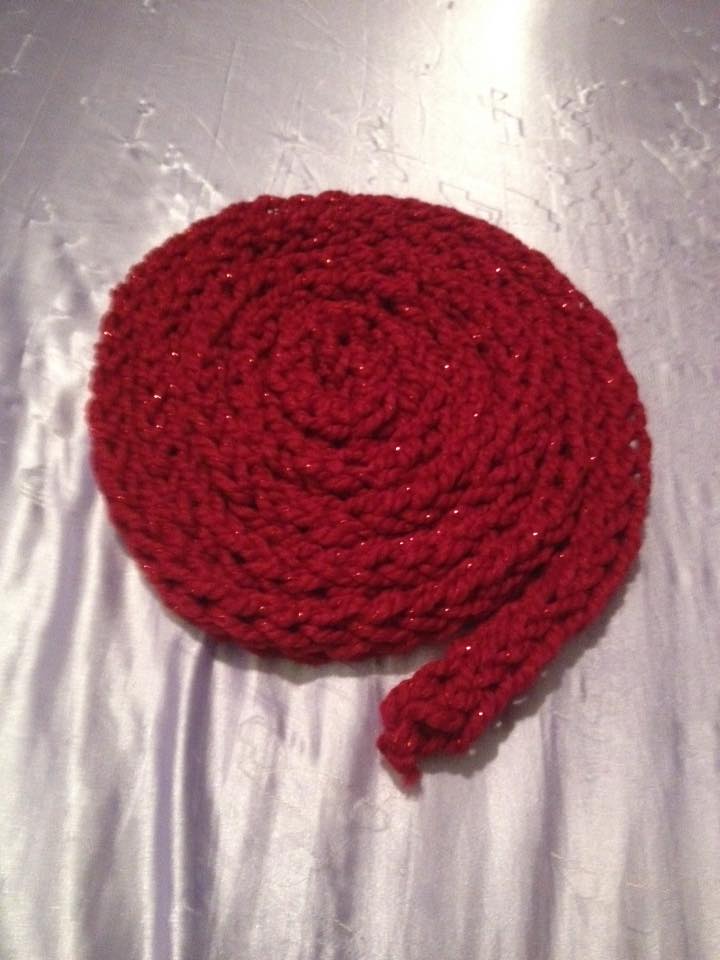 United States
January 8, 2016 10:49pm CST
This is the second one and used the rest of the skein of yarn. I really like it and the quality is better. The first time I made three mistakes, this one has only one part where the "tension" was sort of loose on it. I've got more yarn coming to me, and have been looking at other things you can do with finger knitting. I'm going to use two strands of the same weighted yarn you see pictured here. This should make a thicker scarf, and will have more of a pattern as I'll be using different colors. I eventually want to try arm knitting. I don't want to put too much money into it though as I am not sure if it's something I will be able to expand on. I'm encouraged by how easy finger knitting is and how easy it seems knitting with your arms can be though. I won't give up by any means, but I don't want to spend too much money on something I may not have the "knack" for. I showed my uncle this project and he said "I didn't know you had the talent for this stuff." I told him I don't this was sheer luck! haha! *Picture is mine*
6 responses

• United States
9 Jan 16
Beautiful scarf and I love the color you chose!



• United States
9 Jan 16
Nice and sparkly! All of that skein is gone and I didn't buy another like it. I'm killing two birds with one stone though as I buy the yarn online at walmart and earn cash back via swagbucks.

• United States
9 Jan 16
@ScribbledAdNauseum
Yes, the photo captured the sparkles nicely! Reminds me of the holidays again!

That is awesome you can buy yarn online and get cash back via Swagbucks. Do you get free shipping also or free ship to store?

• United States
10 Jan 16
@infatuatedbby
No I don't do the ship to store option. I *think* that I couldn't do it that way via swagbucks but I am not sure. I want to get another skein of this and one of a green color with sparkles. It does make me think of the Christmas holidays for sure, but the red can be universal.


• United States
9 Jan 16
This did not take long to work up at all. I know that you can find different patterns and projects with instructions that will give you a timeframe it usually works up in.

• United States
9 Jan 16
I am going to buy myself what ever I can find on sale. If I can get some good bags and scarves made by next winter I am going to try my hand at reselling them. They did very well this time for them at the mall. When I saw that video it sure did confuse me. But to think something done so easy is so expensive in the store is just crazy.

• United States
9 Jan 16
Do you still have your store? Wasn't it on etsy? I remember you were making capri sun bags for a long while.

• Salina, Kansas
9 Jan 16
Great job. I have always wanted to finger knit. My best friend made me a blanket a couple years back with the arm knitting. It is a really fun idea and the blanket is really neat. Although it is really loose but very pretty. i would really recommend trying it once though. She said it was really fun to do

• United States
9 Jan 16
The tutorial I watched on arm knitting was by simply maggie. She used a material that was pretty wide. She stressed trying to make the stitches as tight as possible so there wouldn't be very many gaps. I may try it one day but the length I would desire would mean a lot of skeins of the material. The tutorial I watched used 11 skeins and it was probably a tad bigger than a baby blanket. I would want it to fit my bed, so double that.

• Salina, Kansas
9 Jan 16
@ScribbledAdNauseum
It does indeed take a lot of materiel. I am not sure how my best friend did it but I think she just used a regular type yarn and put about 4 of them together. She only made me a small blanket though.

• United States
9 Jan 16
@T_gray
I am greedy with my blankets. I want it to envelop me.



• Boise, Idaho
10 Jan 16
So you are getting better at it all the time. That is great!

• United States
10 Jan 16
Yes! It's also very relaxing for me. I am waiting for more yarn to come my way. I ordered some via swagbucks / walmart. I've been looking at patterns and the such.

• Banks, Oregon
9 Jan 16
I have never finger knitted. I have knitted scarfs with needles though. I learned how in 3rd grade.

• United States
9 Jan 16
I don't think we ever learned how to do crocheting or knitting in school. We learned to sew a pillow but well I didn't actually do any of the sewing. A friend did it for me and the teacher knew but let me pass with a C. I just don't know that I could pick up two needles and learn to do it that way.