I want to bust something up and I just don't give a dam.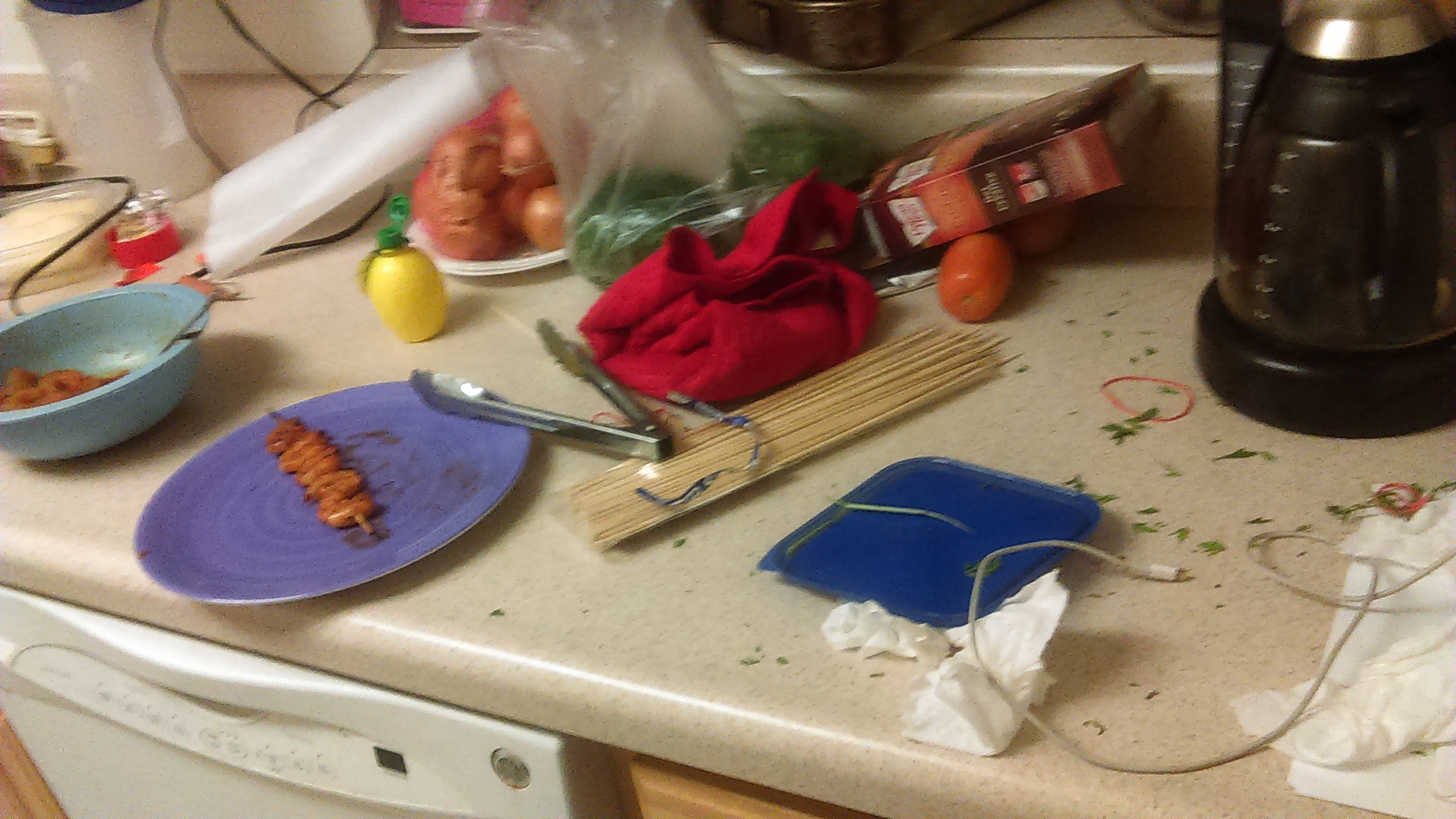 United States
January 9, 2016 12:14am CST
I hate hate hate my freaking life. I wish like hell I was a dog or cat being taken care of by good owners I don't know why I was dealt this sorry azz hand in life. I am tired to the point of no freaking return. This girl is cooking in my kitchen and the entire mess is a shambles. she burned my good dang frying pan and smoke is all in the house. I simply told her to cut down the stove that the smoke is going to other units through the vent. she does not care about that. Can you imagine sleeping and you smell something burning.. Wow. Then I go take the trash out I come back and hear her scratching my dam frying pan pan with metal tongs. Now,she turns around and tells me I can see your not having a good night. Looks at the dam pan and keeps scratching it. I said,to her that if she is not going to treat my pans right not to use them. oh,now she is going to buy her own pan. After you burn the hell out of mine right. I want to just go in there and toss all of them in the dam trash. I am fed the heck up with people taking me for granted. I took a picture of my freaking kitchen to take to my therapist. he will be deciding if I get that letter to put my child in the shelter. With these stupid court papers over my darn head for 3 dam years all I can do is take it. After she leaves the kitchen I am tossing the pan out. Thank dam God I hav money in my purse for a new one. The thing that ticks me off is that this will be the third pan she scratched that I had to replace for $35. all of which she scratched up cooking with something metal. This is not the first time I told her to stop doing this to my pans. I am not going to sleep tonight because,God help me if she goes to bed with my kitchen like that. I am going to call 911 and blast her azz out of that bed. I can't take a sloppy cook and that is why I taught her from very young to clean as you go. I get tired of people saying you can't put her out she is still growing. Screw that my freedom is at risk living with her.
5 responses

• United States
9 Jan 16
Sharon, let me tell you something: we're all still growing. The people who are telling you that you can't put her out are people who don't have your best interests in mind. They don't have Kay's best interests in mind, either. They're okay with her remaining a child in your home. They're okay with you staying responsible for her and parenting her--and let's face it, that's exactly what you're doing when you're dealing with situations like this. Your daughter is a grown woman--regardless of how she acts, she's an adult. It's time for her to start taking responsibility for herself, but she's not going to be able to do that as long as she has you to live with. You buy the food. You budget the money and pay the bills. You keep the house clean and make sure she has everything that she needs to survive. Honestly, I'm flabbergasted that they've told you that you can't kick her out. What gives them the right to dictate who lives in your home? Give your lawyer a call. I know that she helped you with something completely unrelated, but what I'd do in your shoes is explain the situation and ask if she knows of any resources that could help you. Another option might be to pull your daughter in for therapy to figure out a way to change the dynamics between you, but again she's a grown adult. She needs to be willing to make changes, and honestly her behavior is showing that she's not really interested in that right now. I think distance between you will probably be a great help at this point, since it will help you make the transition from parent to peer if you're not having to act like you're still raising her.


• United States
9 Jan 16
@sharon6345
Ugh, that's what this is all about? Good grief. Take good, non-blurry photos of the damage she's caused. Document dates, and keep it on hand. The more evidence you can show at this point, the better.

• United States
9 Jan 16
@yukimori
I have pictures of the holes in the doors I am not sure about the dates. and this picture of the condition of my kitchen last night. Thanks very much.

• Kolkata, India
9 Jan 16
I understand the stress you are going through. Continuous working with such mismanagements tend to be a nightmare! Take a deep breath and calm down now ok?

• United States
9 Jan 16
I left the house in my night gown. I will go back tomorrow and toss all the dishes out from the counter. . Thanks.

• United States
9 Jan 16

• Toronto, Ontario
9 Jan 16
Did she have the entire building cooking in the unit? I can't say that cooking something would take that many plates, and things. She is 21 and is fully capable of cleaning when she is done. Reminds me of my sister she would do that. Now her boyfriend hounds her about cleaning.

• United States
9 Jan 16
it was just her and this is always the way she leaves it for me to clean up. I am not cleaning it up but,I will toss out the dishes.

• Toronto, Ontario
9 Jan 16
@sharon6345
My sister is the same way, she would cook and then leae the dirty plates everywhere, or the dishes she prepared it with. Her boyfriend now is a clean freak and thinks the woman should clean. Why I doubt they will last. He is already hounding her to clean up her dirty messes.

• United States
9 Jan 16
She obviously did not take her cooking lessons to heart and this is really stressful to you. I am not sure what I would do if I were you. Maybe get cast iron so it does not matter if you use metal on it. I do not like my hubby cooking cause I do all the clean up.

• United States
9 Jan 16
I can't see myself spend that kind of money for her to burn up my pans. I would not mind so,much if she would clean up her mess. I would leave the pan for her to keep as her own.. I just bought two a few months back. I just need my space to myself.

• Roseburg, Oregon
9 Jan 16
She is 21 old enought to make it on her own.