The weekend is over back to work!

United States
January 10, 2016 9:20pm CST
I had a very lazy but great weekend. Any amount of time I can spend with my family is a good time. I value and treasure my family and love to spend time with them. I would do anything for them to keep them happy. I feel as a dad and soon to be husband it is my duty to keep my family happy at all cost. I know I couldn't be happy if they wasn't happy. Tomorrow is back to work and less time with the family. It kinda makes me sad but bills need to be paid. Until next weekend =)
5 responses

• Beaconsfield, Quebec
11 Jan 16
It's not easy. My husband feels the same. He's in a trade school during the week, so it's hard. Any time he gets he wants to spend with us. When I got pregnant with our eldest, I chose to stay home, as we wanted to have them close together, and I did want to be here for them. It made sense. I'm lucky I get to spend time with them, a little more than my husband at the moment. But we cherish the time we have together, as a family, the five of us.

• United States
11 Jan 16
It sounds like you are happy with the situation of staying home. Its great to be happy. =)


• United States
11 Jan 16

• Baguio, Philippines
11 Jan 16
We share the same sentiment. It's like another week of just working. A few moments with family and sleeping.

• United States
11 Jan 16
Yes, it makes the time with family all that more special.

•
11 Jan 16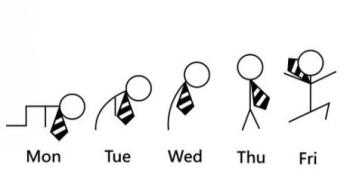 yes i strongly despise week days/ workdays. There's even a fun image i saw recently, i will add here. Every monday i start anticipating weekend too :)

• United States
11 Jan 16
That is a funny image! =D