Does this look legit to you?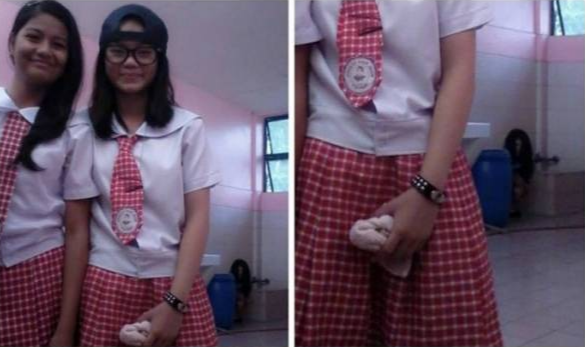 Peru
January 13, 2016 6:24pm CST
I'm a big fan of ghost stories although there are so many fake ones out there. But ever since I was a kid, I've always loved those late night family time where we gather around a candle and our folks (mom, uncle and aunt) would tell us ghost stories. So far we've been told real life experience. Ever since then I've always been into ghost stuff. I can't say I always believe what I see on the internet nowadays so sometimes I take time to dig up just to know if it's for real or not. This one I've found in a random site with not much info about it. So it is said on the site that the photo (which you can see on the right) was taken in a high school toilet in the Philippines. As you can see on the photo, behind the two girls, next to the water tank, you can see a dark figure. Apparently it looks like a girl with a long dark hair covering her very pale face. It went viral to the netizens since it looks exactly like the famous ghost girl on the movie The Ring and The Grudge. (also The Shutter) It was also said that the school didn't deny the rumor about a school girl who died in that same school around 1980s. I don't know if they did some test to prove that the photo was not edited or made up. When I look at it, it seems made up to me cuz I can see her...well... they look like school shoes to me. As far as I know, ghosts rarely have their shoes or feet that visible. What do you think?
4 responses

• Canada
15 Jan 16
I believe in ghosts and have met a few, but looking close at this photo , it looks like part of the plumbing top me.

• Peru
16 Jan 16
lol..it does kinda look like it huh.. I guess I should have put up the close up pic But if it did look like someone, do u think this can be a real ghost pic?

• Canada
16 Jan 16
@mnjhun1
I'd have to see the photo, I enlarged yours and it did not look like a person.



• Peru
16 Jan 16
There's a close up pic of it but I don't have it saved.. you can see a face there behind the hair

• Philippines
14 Jan 16
I don't know. maybe they need to have a mass there and have the priest bless the area just to be sure or you have some one asking for justice somewhat.

• Peru
14 Jan 16
I have no idea where the school is exactly located but it's somewhere in the Philippines. Hopefully they did call a priest or a psychic.

• Cebu, Philippines
27 Mar 16
It looks like it's staged. I noticed the huge space on the right of the photo, as if to deliberately include the 'ghost' in the picture.