Weevils ruined my dinner plans last night

United States
January 14, 2016 1:52pm CST
I thawed out the frozen beef last night. I boiled the water and added some oil which takes a long time on my propane stove to get it to the temperature to boil. I got out the box of lasagna noodles we had half eaten last month. That is when I noticed there was weevils in the bottom of the box. This was actually the first time I have ever seen them. There was about 8 in the box. I am hoping we won't be infested in the cupboard now. I looked through the cupboard and do not see them in any other the other things. I called Walmart and told them what I found in the lasagna noodles. She said she would send me a gift card in the mail this time and that they would report it to their factory but when pasta, flour or oatmeal sit in a cupboard that long weevils are attracted to it. The box was only opened a month ago. I have stored things in my cupboard for the 11 years I have lived here with no problem. It is obvious to me that there were weevils in this box when I bought it or their eggs. I know that you can just boil the noodles after getting the weevils off them but I was grossed out. I threw them away. I just went to town and bought a box of lasagna noodles for dinner tonight. I will throw out the box and put the extras I won't be using tonight into a ziplock bag before putting them in the cupboard.
4 responses

• French Polynesia
14 Jan 16
Here on the islands this is most common. I have purchased package from the market that were infested with them. Normally when I open a package and don't use them all I put them in my freezer to keep them fresh and last longer.

• United States
17 Jan 16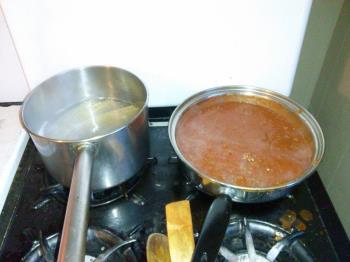 I remember reading about weevils here on mylot years ago. The person had them in their rice but rice is very expensive wherever they were so they picked the weevils out and cooked the rice and ate it. I could not stomach it to do that. The thought would gross me out as I was trying to eat it. I bought fresh noodles at the store and made a nice big dish of lasagna a few days ago.

• French Polynesia
22 Jan 16
@shaggin
Here on the islands we get a sack of rice for a dollar. I can afford to throw my rice to the birds if they are packed in bugs. I won't cook or even attempt to eat food if I see bugs in it. I couldn't agree with you more on that one.

• United States
14 Jan 16
To prevent this from happening again, when you come home with a grain product put it in the freezer for at least twenty four hours. That is all of your flour and pasta and oatmeal and stuff like that. If there are any eggs in there it will kill them. I would strip out my cupboard and spray it down with a dilution of bleach to get into all the crevices, in case any got into your cupboard from the lasagna.

• United States
17 Jan 16
I saw this recommended online to put everything pasta or oatmeal in the freezer for a few days to kill the eggs. I was worried it would ruin the good though if I do that. I am really hoping they have not layed eggs in my cupboard as I will be so upset if they get into all the rest of the food in the cupboard and ruin it. There is a lot of other things in this cupboard.

• United States
15 Jan 16
I sure would be upset if I say them.

• United States
26 Jan 16
Lasagna Noodles are more costly then other noodles. Not a lot of difference but enough that when I had to throw the box out I was not happy. I also was less happy when the people I contacted acted like I was lying and had nasty bugs in my house. I have never had these before these were obviously caused by eggs being in the pasta in their boxes they sold.

• Northampton, England
14 Jan 16
Knowing quite a lot about food production, I very much doubt that the weevils were in the box. If the box was open in the cupboard, it's more likely they got in from something else in the cupboard.

• United States
17 Jan 16
I don't see how it would be possible that they were not from in the box as I have never seen these before as long as I have lived here. It seems if they were in the cupboards they would be in other things not just inside this one package of lasanga noodles. It seems they would have burrowed into the other packages of things like ramen noodles and spaghetti etc.