Berries: My New Go-To Snack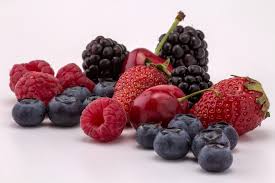 Saco, Maine
January 15, 2016 6:23am CST
I'm pretty proud of myself. I still have a few Hershey kisses in holiday wrappers left in a small bowl on the sideboard that I haven't touched in weeks. Instead, I'm now snacking regularly on fresh berries that I've been buying at the Oriental produce market. The price for their half-pints is usually $1, so I try to buy whatever they have. My favorites are raspberries, but they don't always have those. Next, it's blueberries, then blackberries. I'm not a huge fan of strawberries, unless they're small and sweet and I don't need to cut them up. What I do when I get the berries home is wash them and then put them all into a small bowl. Then, my snack food is handy all the time. Whenever I walk by the bowl, I grab one or two, and I'm satisfied. I used to keep a container of nuts around for that purpose. But I tend to eat too many at once, and they don't always agree with me anymore. Berries, on the other hand, never bother me, and they are so delicious. I've also been buying Oikos Greek Vanilla yogurt and popping my own berries into it as my evening snack before going to bed. The Oikos yogurt brands contain the fewest unwanted ingredients, so I feel safe eating them. Plus, they taste better than the store brands, but cost about the same if I buy a 4-pack. This plan to eat healthier is actually working out quite well. And keeping fat-free snacks like berries on hand all the time also makes it fun. (Public Domain Images)
7 responses


• Saco, Maine
15 Jan 16
I don't like sour fruit, so I don't eat grapefruit. I am making myself eat fruit, because it is so good for me. Berries are my favorite, but I also like grapes and watermelon, which aren't acidic at all.


• Saco, Maine
15 Jan 16
I buy frozen, too. But prices at this Oriental market are a lot cheaper than in the grocery stores. So I buy fresh when they have them on display.

• Saco, Maine
15 Jan 16
@topffer
Olives are another good choice, as they are low in calories, yet quite filling and satisfying.


• United States
15 Jan 16
All those berries should be good for your digestive tract too.

• Saco, Maine
15 Jan 16
They are, and that's an area I need help in, so I'd much rather do it naturally than with artificial stimulants.

• United States
15 Jan 16
@Raelove
I worked for the company that made Senikot and that would be the only brand I would use, but thankfully I don't need that.

• Saco, Maine
15 Jan 16
@AbbyGreenhill
I have lots of genetic problems in that area, but how I eat has a lot to do with it, too. Which is why this new plan is what I need.

• Santo Domingo, Dominican Republic
15 Jan 16
Glad to hear that eating healthier is working for you! Keep up the great work!

• Saco, Maine
15 Jan 16
Thanks, Michael. I'm making white chicken chili for lunch. Just ground chicken, white beans, onions, garlic and spices. Simple but homemade, so I'll know exactly what went into it.

• United States
15 Jan 16
We're blessed in that we have 2 blueberry bushes and 1 raspberry bush in our yard. The blueberries produce enough for us to freeze them and enjoy all year long. The raspberry is a bit more unreliable. A couple summers ago we got our biggest harvest from it, about a cup of them. Mike took a chance in buying the bush because we aren't in it's ideal climate. So we're thankful for whatever we get from it. Neither of us like blackberries but our neighbors have them in abundance. We go to a farm and pick several gallons of strawberries each year and put them up. I like them as a topping on waffles or pancakes or on top of vanilla ice cream. Mike likes them in yogurt too. Have a blessed day

• Saco, Maine
15 Jan 16
Raspberries have been my favorite since way back in the 1950's when I'd help my mother pick them on her father's small farm. He had several rows of them in a big patch, and I would, of course, eat more than I picked. To me, raspberries are the one fruit that sing of summer. I love them.


• Saco, Maine
15 Jan 16
I do buy grapes on occasion, and I also buy dried fruit like cranberries or blueberries to put in salads, and raisins in tiny snack boxes. It has to qualify as a finger-food. Otherwise, I will "forget" to eat an apple or an orange.