A rant about turn signals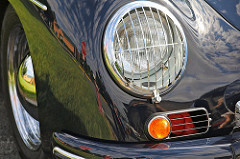 Gloucester City, New Jersey
January 15, 2016 5:44pm CST
I'm beginning to wonder if the use of turn signals is even being taught in schools anymore. I see so many people not using them or waiting until they are beginning to make their turn to use them, I'm amazed. Sometimes people will come to an almost complete stop in front of me and I'll have no idea why. Only when they begin to turn one way or the other do I learn to be glad I didn't try to pass them. So many cops don't use them, either. It blows my mind! What's going on? Is it no longer being taught? Or is it that their use is no longer enforced like it used to be? As far as I'm concerned, something that has an IMMEDIATE affect on other drivers should be of primary importance - far more than the seat-belt laws that are considered a priority reason for a traffic stop.
5 responses

•
30 Oct
I understand what you are saying. When it is summer time and I do not have to use my plastic for my scooter and if not sure my blinker works I put my arm out to indicate what direction I am turning. You are right they need to be in good working order so accidents can be avoided. I like to stay a car length between me and the car ahead because not sure what they will do but then I have to worry about what is behind me.

•
1 Nov
@jerzgirl
Wendy, that is what bothers me I have seen police go through red lights and do things wrong that we are suppose to do.They are suppose to set a good example,but, they do not.


• United States
7 May 16
they're bad BAD about not using them here.a lot of times rhode islanders will joke it's the Mass people,but they do it too.

• Gloucester City, New Jersey
7 May 16
I can't pinpoint any one state around here, although I will complain mightily about PA drivers! It's just bad. That and they haven't figured out that the center turn lane is actually meant to be pulled into to make that left turn!

• United States
12 May 16
@jerzgirl
nope.that's the lane you speed up in to beat the normal lane.


• Gloucester City, New Jersey
12 May 16
@scarlet_woman
Around here, that would be the shoulder - at least on the freeways. Annoys the living spit out of me!! LOL


• United States
15 Jan 16
yes,it is shame that many drivers to no.I use mine all of the time. These are the drivers you have to be careful and stay away from them if you can.

• Canada
16 Jan 16
Didn't you know, signal lights are optional on most new cars. I would rather spend my money on a rear camera than on signal lights. (Said with tongue, firmly in cheek.)

• Gloucester City, New Jersey
16 Jan 16
I was so hoping this was in jest!

They don't even use hand signals when the lights aren't working. We were told we were to use hand signals if our lights failed when I was in drivers' ed. But, those damned seat-belts had better be visibly worn or you'll get hit with a pricey ticket. You don't even have to be disobeying a rule of the road to be pulled over for seat-belts here. It's a primary violation. Apparently, though, signals and not cleaning snow off the back windows are not primary violations because they can drive by cops with impunity (although, I've driven by State Police doing 85 on the freeway and they don't blink, so who am I to talk?

)

• Canada
19 Jan 16
@jerzgirl
I did a post waaay back on Bubblews about my annoyance wth th,e mentally deficient drivers who can't find their l light switch, but need to answer they cellphone in their hand,