Water water everywhere!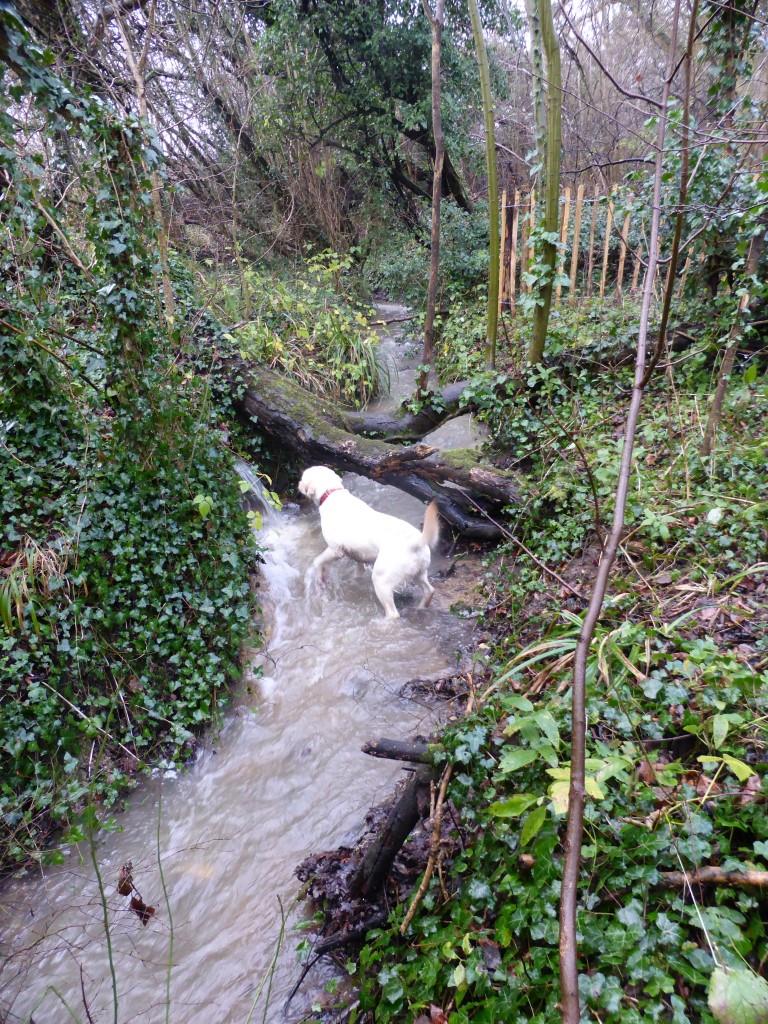 United Kingdom
January 18, 2016 12:47am CST
Thankfully we haven't had the torrential rain and flash floods that have hit many places further north this winter, but we have had plenty of rain. This sort of weather has quite an impact on the landscape round here because there are a lot of springs, ditches and tiny streams that aren't even noticeable in dry weather but after a few days of torrential rain the place is transformed. As I walked down a sloping meadow yesterday towards what is usually a damp ditch I could hear the sound of a waterfall due to the volume of water rushing through! A couple of substantial small rivers have appeared in the woods, and everywhere else is just so muddy that I've taken to carrying a big stick on our walks just to stem my sliding as I 'ski' in the mud down the slopes. Pup of course loves mud and water and the combination of both is best of all. When we unexpectedly came across a rushing stream in the woods where normally there is just a bit of a hollow he was in his element, leaping into and over it, running up and down in it, biting at the water and just generally getting overexcited at this unexpected treat! Luckily I have a collection of old towels for when we get home. All rights reserved. © Text copyright Fleur 2016.
10 responses

• Banks, Oregon
18 Jan 16
Rainy and, floods here, the last 3 months in a row.

• Banks, Oregon
18 Jan 16
@Fleura
Yes, because the flooding softened ground and, caused trees to fall over on power lines, also it went over the road one night.

• United Kingdom
18 Jan 16
@TRBRocks420
Yes I've noticed quite a few trees down around here as well, they just don't have enough to hold onto!


• Bunbury, Australia
18 Jan 16
I think you will need every one of those old towels. It's amazing what a difference a bit of rain can make.

• India
2 Mar 16
@Fleura
Nice photo.I am looking at the photo of your dog enjoying the waterfall.

• India
3 Mar 16

• United Kingdom
3 Mar 16
@silvermist
Oh yes he has fallen into the canal before and then he swam alright! I think that may have scared him though.



• United States
9 Feb 16
I love when it rains we need rain here


• Toccoa, Georgia
29 Feb 16
We have had rain but not to the flooding stage , thank goodness.

• Budennovsk, Russian Federation
18 Jan 16
playing for a dog is essential


• United States
18 Jan 16
What a wonderful picture! We have had a lot of rain here in southern Oklahoma too. Apparently, some beavers dug a den into one of our pond dams. When the pond got too full, it caused a sink hole in the dam! I am hoping we can get it all filled in before it really causes a problem!