Oh How I hate Diets and Now I have No Choice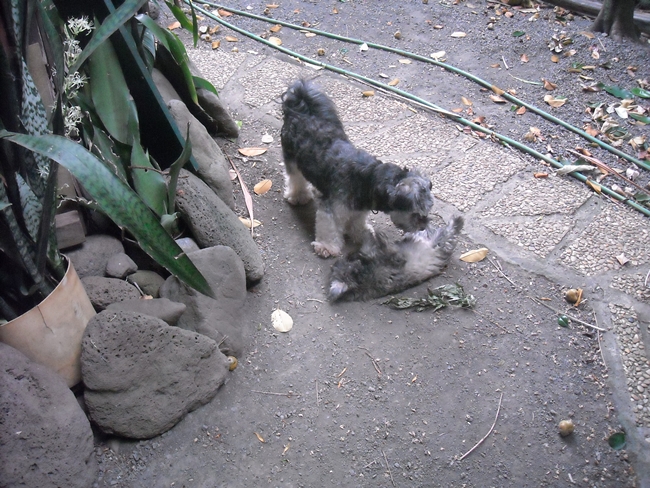 French Polynesia
January 21, 2016 11:11pm CST
No not for me. I don't need a diet but Dakota sure does. I came back from my work to find Dakota extremely heavy and begging for food all the time. It appears when I was away my boy friend shared all of his meals with Dakota. Plus Dakota was given his evening meals on top of it. I had the two dogs at the vet yesterday and in one month Dakota gained 1 kilo 700 grams. He is extremely over weight for the size dog he is. The vet was not too happy with his weight and told me he needs to go on a diet. Now getting this through Dakota's head and my boy friend's head isn't easy. The time I was away my boy friend allowed Dakota to beg at the table for food. He gave the dog what ever he wanted to eat. Now that I'm back home Dakota and I have fights at night. I fight with him to stop begging at the table and my boy friend continues to feed him food. The last couple of days hasn't been hard to put Dakota on a diet because my boy friend is off working again and staying at his job site. I fear when he comes in again it will start all over. There is nothing in the world I hate more than a dog begging for food. I've never allowed Dakota or Cheyanne to beg at the table. I make them go in the other room when we eat. One month away and all has changed. Dakota is a fat little piggy and a beggar. Looks like I\ll need to attach him for awhile if this keep going on. I'm sure you don't allow your animals to beg at the table when you eat. I have always had a rule in my home that dogs were not allowed near my dinner table. They had to go lay in the other room when we ate. This has worked so far. But now all has changed. Looks like next time I need to go off to work both dogs will travel with me. I can't have this happening. I feel bad about putting Dakota on a diet but it has to be done. The hardest part of all is that Dakota finishes his food and wants to go and steal Cheyanne's food. I have to be there when they eat to make sure he doesn't steal Cheyanne's food. I don't worry about Dakota trying to steal the food from Nita. Nita will have his head on his plate if he tries to do this one. Have you ever had to put your dog on a diet? Image source - personal image
8 responses

• Bunbury, Australia
22 Jan 16
Neither dog looks very overweight in the photo. Good luck with re-establishing your feeding rules.

• French Polynesia
22 Jan 16
I think it is the hair on Dakota that hides his weight. But no he did weigh in at 7 kilo 200 grams yesterday and the vet was not too happy on this one. He basically need to lose 1 kilo 700 gram to be back to the weight he should be at or what he was at before I left. I started his diet last night and he wasn't too happy. I can't cut too much food away from him because in reality he doesn't get that much. I can basically cut back 1 tablespoon of food at night. I guess he ges aruond 500 grams of food at night for dinner and this isn't really a lot. I can take away around 1 or 2 tablespoons to start his weight loss. Then to help it along I must make him run even more in the house chasing around his toys and playing. This will help the rest of it. But small dogs are not easy to make them lose weight. You don't give them that much to eat as it it and then to have to take some of it away is hard.

• Bunbury, Australia
22 Jan 16
@poehere
I can imagine it would be very hard to get much weight off him.

• French Polynesia
22 Jan 16
@JudyEv
Yes being a small dog it is hard to do this. That is why I never allow him to over eat. But my boy friend thinks the dog is always hungry. What he doesn't understand is dogs can eat 24/7 and always think they're hungry. So you have to limit their food intake and how much they eat.


• Boise, Idaho
22 Jan 16
I don't have dogs. Haven't for years. Cats are so much easier. Good luck!

• French Polynesia
22 Jan 16
I also have 1 cat and he loves to eat. But he isn't over wright at all. On the other hand Dakota has turned into a little tub bucket that I need to fix before it goes any further.

• Boise, Idaho
22 Jan 16
@poehere
...I think you had an issue with his weight once before too wasn't there? He's like me. He likes to eat.

• French Polynesia
22 Jan 16
@celticeagle
Normally I don't have much of an issue with Dakota's weight. Unless he is fed under the table. I did stop this one for a long time. He was given his dinner at the same time we ate. Being gone his routine has changed. Now it is time to get him back on track.


• Cagayan De Oro, Philippines
22 Jan 16
Dogs need exercise, no need of dieting just let them run to and fro.

• French Polynesia
22 Jan 16
He is a small dog. He runs around the yard but then comes in and sleeps a lot. It is hard to try and take all the dogs for long walk. Here he has plenty of room to play because he is small. When he gets in one of his moods he sure can run.

• Cagayan De Oro, Philippines
23 Jan 16
@poehere
wow cutie, cutie.Maybe his food is so nutritious.

• French Polynesia
24 Jan 16
@cacay1
He loves to eat and he loved to try and steal food from Cheyanne and Nita. Now I have to really watch him and put him in his place. He will get the weght off I am sure of it.


• India
22 Jan 16
@poehere
When we did have dogs,they were not allowed inside the house.Now we do not have any pets.

• French Polynesia
22 Jan 16
The two small dogs I have wouldn't do well outside. I prefer them in the house and let them have access to the outside. The other dogs I have had before have all been outdoor dogs. They are way to big to come in the house. But considering how small Cheyanne is I don't want her outside all night long. She is still a baby and yesterday only weight 2 kilo. She is still very small and fragile and I just like her inside the house. This is the only dog I have ever let in my home here on the islands. I did have a very small dog before and he basically lived in the house. He traveld with me and was basically a lp dog. When I lost him to old age I didn't want another dog like that again. You get so attached to them and when they're gone it is hard. I would rather have a big dog in the yard because of where we live. We live by the river and there isn't anyone around us. So a big dog in the yard keeps people out of our yard. A small dog won't do much good at all.

• India
22 Jan 16
@poehere
If you are living somewhere isolated,definitely you need a bigger dog outside.

• Philippines
22 Jan 16
We don't allow the dogs inside the house . So we keep the local ones , 3 in the front yard and one at the backyard . For the toy dogs a pug and 2 tsih tzu (i hope i speled it right ) , we gave to a cousin of my husband who takes care of them .

• French Polynesia
22 Jan 16
I have 2 Black Frise Bichons that are basically house dogs. I also have one very large dog who lives in the yard. The two small dogs have the run of my home and the door is left open in the bag for them all the time. They go in and out as they wish and spend a great deal of time in the garden. But at night they both come in the house and sleep. I feed the two small dogs in the kitchen and the large one gets fed in the yard.

• United States
4 Mar 16
@poehere
I haven't but my sister-in-law has. She had the same problem you have. She has three dogs, one will give up their food to the dieter and the other would bite him on the snout. Eventually she put them in separate rooms during dinnertime. The pudgy boy lost some weight and now he is starting to gain it back - don't know how. Good luck.

• United States
27 Feb 16
I agree, I don't like begging critters at the dinner table. I did make an exception for Star, because she was feral and it was one way to get her to come close. Now, however, Star has long gone to the Bridge, and the other cats I put my foot down on. After I've finished, if there was any fat, I might share it with a certain cat, or two, but only after I'm done.

• United States
23 Jan 16
We had this issue with my mom's dog she would always beg and my step dad would give her food. Now they hardly ever give her table food only once in a blue moon. The vet said she needed to lose weight too because for her age and being a miniature doxin the weight wasn't where she should be.