A Traveler fed two hungry street kids - Heart touching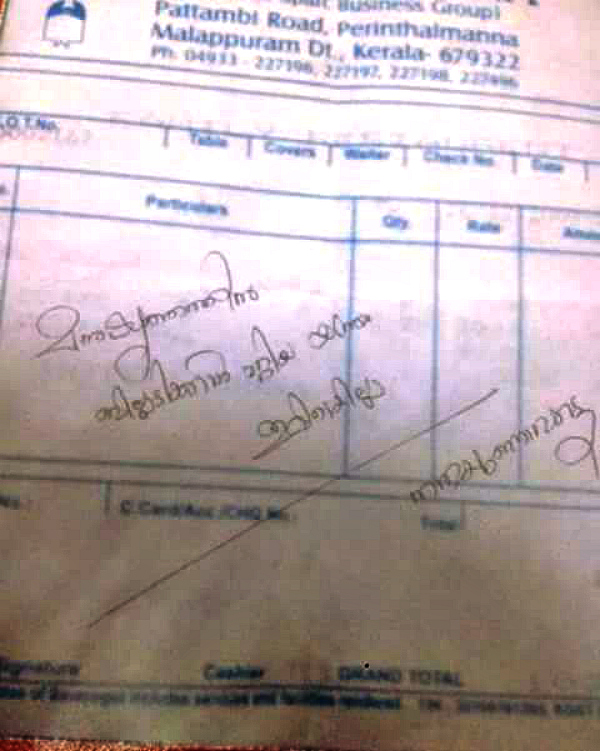 Thiruvananthapuram, India
January 22, 2016 9:45am CST
This is a real incident happened in my place(Kerala, Perinthalmanna). I came across this incident on Facebook. It really filled my eyes with tears

. There was this traveller who came here for some business related matters. Later he spent his time on town. He felt hungry and came across a restaurent and placed an order. They delivered the order and it was then he noticed two kids who were peeping into the food, from the outside. Others were too busy to notice them. He called them in and asked them what they want. They just pointed towards the food he got delivered. He gave an order for both of them. They ate it and left after washing there hands without making any fuss. He felt like his hunger was satisfied. Then he finished his meal and asked for the bill. When he was back after washing his hands and saw his bill, I am qouting it as I read it "One look at it and a tear - one that was hidden somewhere by his conscience - left his eyes and dropped gently onto it" Its just how I did feel too. The picture with this post is of that bill. And it says : "We do not have a machine that can bill humanity. Godspeed!" It is when we hear this kind of news that we feel missing being a human. Hats off to both of them, the traveller and hotel owner.

9 responses

• Roseburg, Oregon
22 Jan 16
That was so nice of the man and the business and the children were not hungry anymore

•
20 Jun
@jstory07
Judy, I thought it was one meal. Was it enough for them to never go hungry again?


• Thiruvananthapuram, India
23 Jan 16
@Marcyaz
Yeah, that may be a reason too. But in the contrary we hear about a lot of bad things happening around the world, about killings done by monsterous groups. I think these good news which shows humanity get unnoticed among these bad ones.


• Uzbekistan
22 Jan 16
Many years ago my husband, my mother and I were in Mexico. One day we were in a restaurant in Mexico-City. When we were eating, we saw two beggars sitting outside beside the entrance. Before leaving the restaurants we bought two bags full of food and gave them to the beggars. I'm German and I live in Germany. There are also beggars here. I don't give them money but occasionally I buy them something to eat and to drink. This is the first time I'm telling this to anybody. Now, in the age of social media, everyone brags about everything. Btw, the bill beside your post doesn't mean anything to me. I can't read your language. Why haven't you told us what it says?

• Thiruvananthapuram, India
23 Jan 16
I have said it over there, its still up there in the fourth paragraph's last line. The bill says : "We do not have a machine that can bill humanity. Godspeed!". And I appreciate your kindness. You're right people nowadays brag about everything they do. But there are also others who do this secretly too like you did. But sometimes it is good to tell it to others as it can inspire a lot people. I think this one is one of that kind.


• United States
22 Jan 16
Aw!that is a very good touching story there.This is what I like to hear.

•
19 Jun
@aju007
That was so nice of him to do that for them. It is sad no one else wanted to help them. It took a stranger to want to help them out.

• Perth, Australia
9 Feb 16
That is a really great story! :)