Dinner Food Deals! $15 off your purchase of $30+ = Great Friday Meal!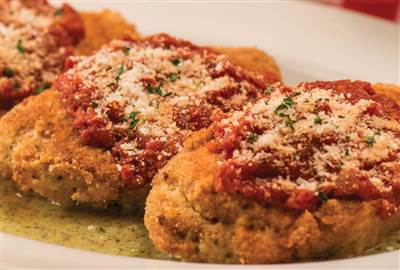 United States
January 22, 2016 10:45pm CST
Buca di Beppo is an American chain restaurant specializing in Italian Food. This restaurant is known for their giant portions which is perfect to share among everyone dining. The prices are sort of expensive but if you divide out the portions, it'd be more affordable. During dinner time you literally order the (carbs) like spaghetti, pasta, salad separately and the entrees separately so it costs more. Regardless, the prices are a bit high for everyday dining (plus you'd get sick of the food if you eat it daily) but being subscribed to Buca's newsletter, I recently received a coupon. Get $15 off your purchase of $30 or more, valid for dine in or take out! Every time I receive these sorts of deals, I always take advantage of them! Especially because it's valid on "to go" sometimes, the coupons aren't valid for to go and with dining in you'll be paying for drinks and tip! My trick with buying enough for 2 people is ordering the Small Dinner portion of the Prosciutto Stuffed Chicken (which is one of my boyfriend and I's favorite entree) and a Kids Meal. What's in the Prosciutto Stuffed Chicken? Stuffed with mozzarella and prosciutto, served with Buca's homemade marinara and pesto cream sauce. My trick? I ask for the marinara and pesto cream sauce on the side. They will individually package the sauces. Why? In the small, you'll get 3 pieces for $26.99 - my boyfriend and I each just eat one each so we will always have one left over chicken for the next day. If you don't ask for the sauces on the side, your left over will be soggy and soaked with the sauces. Then for spaghetti, we pay for the Spaghetti & Meatball kids meal which is $4.99. You get a good amount of spaghetti - literally the kids meal is a full on adult regular entree in our opinion. With that being said, after discount and tipping the guy we paid $20 for our dinner that is good for tonight plus a left over one tomorrow for lunch! Great deal and totally delicious (not the healthiest though)!

Do you have any tricks and tips to saving money when dining out? Are you subscribed to a lot of places and receive great deals and discounts? Do you tip when you order to go?
I round up the bill to $20, and tipped the guy $1.66. I also asked for some butter and utensils. (Photo Credit) bucadibeppo.com/menu/dinner/entrees
7 responses

• United States
23 Jan 16
since my stomach does not growl I often eat off the kids meal.

• United States
23 Jan 16
The kids meal here is a generous portion and really inexpensive. Sometimes for lunch, I would order the chicken parm with spaghetti and it's just $5 + tax!


• United States
23 Jan 16
My stomach has seemed to shrink as I have gotten older. I eat less at one time but tend to eat every few hours just something small though.

• Banks, Oregon
23 Jan 16
Very good tricks and, tips and, that chicken looks pretty good, also love spaghetti.

• United States
23 Jan 16
Thanks! I love trying to save some money while getting to eat some yummy food also.


• Banks, Oregon
23 Jan 16
@infatuatedbby
You're welcome

That's the best way to do it. Good food, for good deals


• Philippines
23 Jan 16
I have no tricks but I do love to eat with friends. Mostly we buy extra large pizzas and share together.

• United States
23 Jan 16
That's a great idea and saves money instead of each one buying separate slices.



• United States
23 Jan 16
Our dinner was delicious, thank you!


• United States
23 Jan 16
Oh yes, this restaurant is an American chain specializing in Italian, lol. That is interesting in Italian culture you order the pasta, spaghetti first. Makes more sense they make it separate for dinner but I like eating them both at the same time.

Thank you for letting me know! I learned something new today.


• United States
23 Jan 16
I use coupons all the time.

• United States
23 Jan 16
I try to also! It's great savings!


• Toronto, Ontario
24 Jan 16
I would certainly take advantage of the coupons. I know Wagjag, and Groupon have deals like that. But the bonus in a way they are never in my area. So if I visit my friend we use them otherwise I don't. I like living in the country, as I don't spend as much money on the convenient take out food.