About Me...

United States
January 24, 2016 2:48pm CST
Recently, I have met some new people who know absolutely nothing about me. Even persons I've known for a long time don't know much about me. I've actually lived a very full life, but I don't talk a lot about it to anyone. So, I think that most people think that I have lived a somewhat boring existence and now I'm just an old woman who wouldn't be interesting enough to get to know. Honestly, I don't care what most people think about me, but what I'm trying to do is to let my grandson and my great grandchildren know more about me and the life I've lived. I want them to know that I've traveled to a lot of places and what those places were like when I was there. I want them to know about things I did growing up, and any accomplishments that I have had throughout my life. Do they know that: 1. I sang on television when I was 13 years old? 2. I won several talent contests when I was in elementary and high school? 3. I used to sing with live bands? 4. I won a trophy for playing basketball when I was in high school? 5. I was a speed skater in roller skating and could skate backwards almost as fast as I could skate forwards. I knew all the dance steps too. Speaking of dancing, I met my husband-to-be on the dance floor and we were so good at dancing together that, in later years, some people thought we were dance instructors. 6. We got married when we were 18 years old and had four children by the time we were 22. We had twin boys the third time around, and then a new baby boy came along when we had four teenagers. 7. My children were born in Colorado, Okinawa, Maine and Virginia 8. I was a Region Manager with a Direct Sales company and earned many sales and recruiting awards, including over 30 FREE trips to Europe, Mexico and the Caribbean and many places in the U.S. such as San Francisco, Las Vegas, Lake Tahoe, and Disney World . 9. I've been to the Grand Canyon, Niagara Falls, Yellowstone Park, the Grand Tetons, Mount Rushmore and many other places in 45 different states. 10. I have been a motivational speaker for many years, training hundreds of persons how to sell and recruit new sales persons. 11. I write poetry and was the Secretary of West Virginia Writers for two years and wrote for two newspapers. I recently published my first novel. There are so many other things that I have seen and/or done that most people I know, have no idea of what memories I have, so I am using MyLot to record some of these things and then I can print them out for my memoirs at some point. In the meantime, I do take the time to tell my grandson, that I see every day, about some of my adventures. He listens with interest and asks me some crazy questions. I enjoy telling him about events from what he considers the ancient past of my life. He is fascinated with some of the things I tell him. We have a good relationship.
5 responses


• United States
25 Jan 16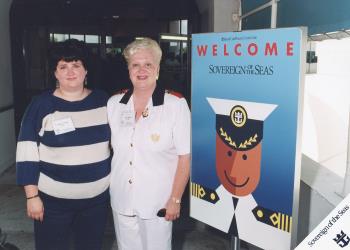 I have a lot of memories to share and a lot of exciting stories, more than the average person, I know. My nieces used to love for me to come and visit, so they could hear about my latest adventure. I took one of them on a cruise I had earned. She was happy about that. Here's a photo of us, me on the right, just before we boarded the ship.

• United Kingdom
26 Jan 16
@IreneVincent
Lovely photo. I've been on 3 Royal Caribbean cruises, but never been on one for free.


• United States
25 Jan 16
Yes it's difficult for them to imagine not having a TV or a telephone or indoor plumbing. Their eyes get so big when I tell them some things.

• United States
25 Jan 16
@IreneVincent
Oh yes, I remember when I was around 6 we had our first TV before that we had the radio we listened to.

• United States
25 Jan 16
@Marcyaz
Yes, my family always listened to the radio when I was young. I had my own radio in my bedroom and went to sleep at night listening to my favorite "top musical hits" station. I also remember listening to a radio program on Saturday mornings called "Let's Pretend." Listening to a radio program allowed you to imagine what the characters looked like and where they lived, etc. Now you just watch them on TV. I liked using my own imagination better.


• United States
25 Jan 16
Overcoming any odds this world puts upon you is worth a lot. It shows your strength and perseverance. I have also had to overcome many trying situations. Cancer being just one of them..

• Singapore
26 Jan 16
@IreneVincent
Yes, some lose the way and even give up trying - siva


• United States
25 Jan 16
There are many places that I would still like to visit, but I think my traveling days are over. I'm just thankful that I have been able to travel to many different countries and states in the U.S. Now, I'm just going to take some short trips around Virginia and see many things here that I still haven't seen. Crazy isn't it?

• Oxford, England
26 Jan 16
What an interesting life ! Thanks for sharing