The Weather Outside is "Dreadful!".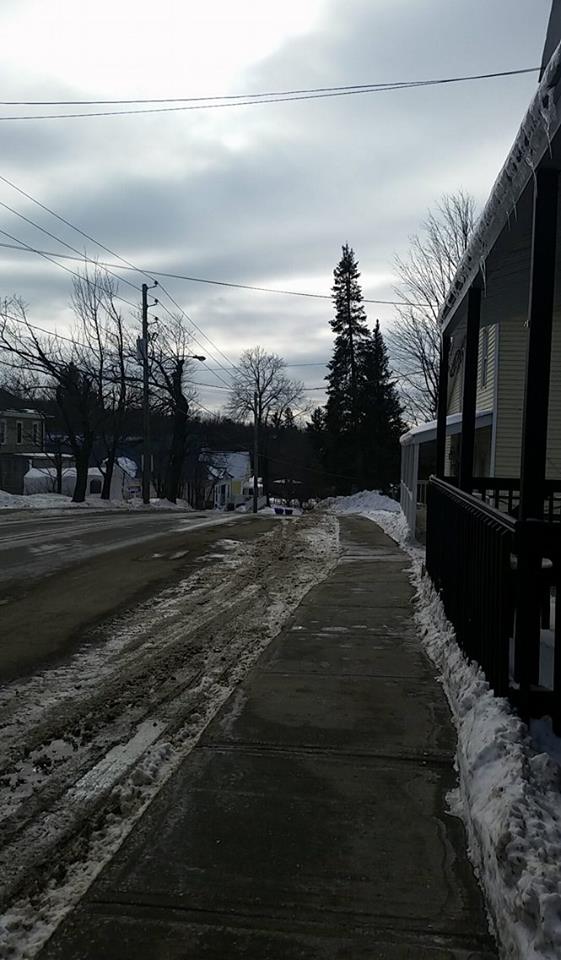 Canada
January 25, 2016 11:17am CST
Yes, I was humming that Christmas tune in my head as I was writing that title. But really it is! At least it's now snowing, but it just looks really BLAH and gloomy outside today I guess you could say. I had to walk to the bank which wasn't too fun. Because my ears feel like they are going to fall off or something from being so cold outdoors! Burrr! It's weird how it's usually warmer when it's snowing out. But days like this. It's freezing! How is the weather for my fellow lotters today? (Picture of the lovely gloomy day that I took today!)
8 responses

• United States
25 Jan 16
I was walking where it was not shoveled and the snow was over my knees. I fell in it and boy way my hands frozen. I got up and snow was all in my boots.

• Canada
25 Jan 16
Aw that can't have been too fun! I hate snow! I usually try to avoid the outdoors when it's winter!


• United States
26 Jan 16
Oh not
@sharon6345
I hope you got someplace warm pretty quickly and got thawed out.


• Dayton, Ohio
25 Jan 16
MANDY! I thought I had lost you forever! I am so glad t see you here on MyLot! I am looking forward to catching up with you!

• Canada
25 Jan 16
Awww!! My fellow Bubblews Buddy! It's so nice to see you!! Guess you can't lose me that easily!


Heard about this site and as much as I love to write, it really intrigued me to join! Same! xoxo

• Dayton, Ohio
25 Jan 16
@x0MandyLynn0x
Woo hoo, my bubblews buddy remembers me ( I just saw that episode of sponge bob last week!) I think you will be really pleased with MyLot. It is way better than Bubblews was, and I think it will be around for a long time.

• Canada
25 Jan 16
@BethieAnnie
Well the earning is a lot harder on here. (Compared to the beginning Bubblews) but the people seem to be much nicer, and the interaction is nice. Of course I remember you by the way! You're awesome!



• Otis Orchards, Washington
25 Jan 16
The snow that fell here just before Christmas (a good foot or 30.48 cm) has pretty much all melted away. Yesterday it got up to almost 40º F (4.44º C) and was sunny most the day. Today it's foggy and gloomy. The fog is supposed to burn off and turn sunny this afternoon. We will see. I hope your ears don't fall off from being so cold. After Christmas we had about two weeks of weather where the temperature didn't get above the freezing mark.

• Canada
25 Jan 16
We didn't even have any snow here in Canada this year (well last now..) for Christmas! It was so weird! But all the snow came a rushing in right after Christmas, so for New Years we had a bunch! It's supposed to be +4'C tomorrow here, so that will be a change.


• Otis Orchards, Washington
25 Jan 16
@x0MandyLynn0x
That's good it will warm up. After thinking about it, that song reminds me of a joke I saw years ago. A guy was standing on a table with a drink in his hand at a company Christmas party. He was singing something like this: This job is not delightful. My boss is really frightful. Someday they're let us all go. This job blows! This job blows! This job blows!

• Canada
25 Jan 16
@RichardMeister



That is too funny!

• United States
26 Jan 16
We have had a lot of gray days with no snow. I would rather have the snow.

• Northampton, England
25 Jan 16
I think the word is 'frightful'.

• United States
25 Jan 16
The sun is shining here and it's in the 30's. I was able to walk outside without freezing for once. Hope your inside now bundled up where it's warm

• Canada
25 Jan 16
The sun finally found its way out now. So it's much prettier outside than it was earlier this morning. But yep! I'm definitely inside, all warm. Probably too warm. Think I should turn the heater down a bit.



• Canada
25 Jan 16
Yeah, it's a very 'dry' kind of cold out there today! But now the sun is finally out, so looks nicer!


• United Kingdom
25 Jan 16
It's "Frightful" not "Dreadful" as it has to rhyme with "Delightful"

I'd like to say it's delightful here, but it's not and we are bracing ourselves for the leftovers of the storm that hit the US over the weekend. We are just getting rain, not snow, plus strong winds. We've had too much rain recently, everywhere has been flooded.


• Canada
25 Jan 16
Hahahaha! I guess you have a good point!



It's more delightful now that the sun has finally found its way outside!! Yikes! Floods? That's not good!