Re-potting the WELCOME Plant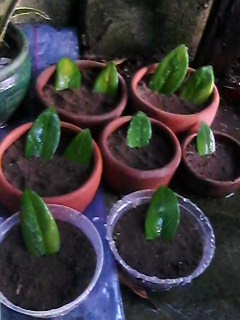 Philippines
January 27, 2016 1:05am CST
Hello Lotters, I have another plant that is also an indoor and doesn't need much water for it. it's scientifically called Zamioculcas Zamiifolia or ZZ plant. It's been weeks since I wanted to propagate this one but due to lack of knowledge i decided to leave it be.Finally, I got the time to research on it and realizes that only the leaves are needed to propagate them. So I started cutting down some leaves and put them on the smaller pots here but clay and plastic. I've already seen video of people growing this plant because it takes literally almost a year or two to get it to grow. some people just forgot about plant. It's one of the plants that has benefits of removing VOC ( Volatile organic compounds ). But Im ok with it, you never know if some one would actually needed it. Credits to PlantzNThings not my video
8 responses


• United States
27 Jan 16
I too am not good at growing plants or anything.

• Philippines
27 Jan 16
I don't know
@Shavkat
there was this one plant that i just that was stem and i put it in the soil, for all i know it grew some how. well, you don't need to be a green thumb with this house plant, it hates being watered everyday. oh, i forgot to add a video here.
@infatuatedbby
so do i until i start putting plants on my room.

• Philippines
27 Jan 16
You said it right , he has a green thumb . I too don't have it just like you .



• Banks, Oregon
27 Jan 16
Well done on the plants. I can grow, but I don't get the chance to a lot currently.

• Philippines
28 Jan 16
Hello
@TRBRocks420
well, i don't want to focus on them every day and that's why i chose these plant because i can have little attention on them unlike the others were mom can plant them herself.


• Philippines
28 Jan 16
no of course, keep them in the house, its got a lot of benefits. the selling part, never cross my mind, probably just a curiosity experiment
@marlina

• Philippines
27 Jan 16
Tell me when you have lots of plants already, I will pass by your house when I go to Imus and ask for some cuttings for my garden



. Seriously your place is is a good place to grow plants probably because of the soil and climate, similar to Laguna.

• Philippines
28 Jan 16
This will take at least a year to grow.Unless I get it right, it's the first time I've propagate this plant. we tons of plants, but only these two i recognize to be house plants. there's two more but i will research later. not sure if you know our house, my grandma would freak out hehe
@louievill


• Philippines
28 Jan 16
Hello
@sofssu
Well, i do since it's not much important and i will have to replant them again.

• Malaysia
27 Jan 16
These ZZ plants look good! I think I have seen them planting here, but didn't know we can just propagate them by the leaves. Hope they will grow healthy and strong!


• Philippines
28 Jan 16
I've seen this twice already in youtube so i would like to do the same since i only have two here
@kaka135