Camp Ellis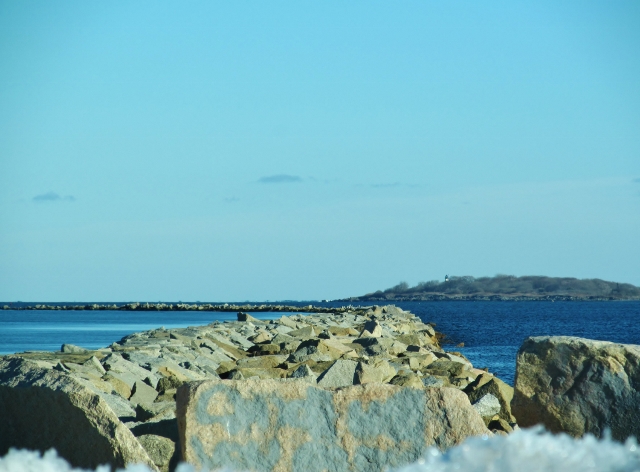 Saco, Maine
January 29, 2016 9:11am CST
Here in southern Maine (USA), if you say the name "Camp Ellis," people immediately think of the two popular eateries where seafood rules the day. But in January, both places are boarded up, and the area's physical beauties stand out. In the winter, it's also possible to drive out onto the pier area for free, where you can sit and look out over the Saco river and the Atlantic ocean, as that's where the two meet. During the summer, you have to pay to go out there, as it's much busier with fishing boats coming in and out, as well as both restaurants being open. I drove down there yesterday and spent a nice few moments just taking it all in. In just a few weeks, the air there will be filled with the aroma of fried clams and clamcakes, and the place will be bustling with people eager to get at them. It's been awhile since I've gone there to eat, but I may do it this year seeing's how close I live to there now. The photo is of the breakwater that was built by the U.S. Army Corps of Engineers many years ago to prevent coastal flooding. That area has suffered a lot of damage during storms, and many buildlings no longer even exist. The ocean level has risen, too, as some old-timers can point way out into the bay to the area where the tide and shoreline once met. The photo looks east out to sea and toward the islands that dot that area, and on sunny warmer days, it's not unusual to see people fishing off that long breakwater. I've walked it myself a few times and may again this year once the weather warms up enough and before the place reopens for business. (Photo is Mine)
9 responses


• Saco, Maine
29 Jan 16
The immediate seashore has most likely changed a lot since then due to the many storms that have claimed buildings through the years. The breakwater and jetty have helped that a lot. But it's still not a place you'd want to own property. The streets closest to the shore and the concrete seawall are always covered in beach sand, which tells you a lot.


• Saco, Maine
29 Jan 16
I've never lived anywhere that wasn't close to the sea. Here, it's a 10-minute drive away, so I plan on getting down there often once it warms up.

• Goodfellow, Texas
3 Jun 16
@Raelove
- Ms Rachel - I have a question about your photo. Is that some painted-over writing on the rocks in the foreground? Just wondering. Nice image, by the way...


• Saco, Maine
3 Jun 16
I couldn't make out what it said other than the first word looks like "Camp." The graffiti has washed out and faded over time. Sorry.

• Goodfellow, Texas
3 Jun 16
@Raelove
- Thank you, Ms Rachel. I just wanted to make sure that I was not "seeing things" that were not there.


• Saco, Maine
3 Jun 16
@Ceerios
No, you weren't. That breakwater gets a lot of use, so there's no telling how could have painted that there.

• Boise, Idaho
31 Jan 16
Mmmm. Clamcakes sure sound good. We get them some times at the grocery here but I bet those are so much better.

• Saco, Maine
31 Jan 16
Trust me. What you get in a grocery store does not compare to the "real thing" made by hand with locally-dug clams. They vary by restaurant, as some do use the pre-frozen kind. But you can tell the difference. And yes, they are delicious. I'm not a huge fan of whole clams, as I don't like the bellies. But I love clam cakes, as they are made with chopped clam necks. Dee-licious.

• Boise, Idaho
31 Jan 16
@Raelove
...We stopped at a place just over the Oregon border into California once. Nice little seafood restaurant. We got an order of oysters and they were huge, lightly battered and delicious. And I don't even like them all that well.

• Saco, Maine
31 Jan 16
@celticeagle
If I was ever to try them, they'd have to be battered. I could never do the half-shell thing. Nope.


• Saco, Maine
29 Jan 16
There is. That's the beauty of the east coast. We have a off-season where the beaches are all ours to enjoy. No parking permits, no curfews, just freedom. That ends in May and runs to Sept. But even then, some beaches are accessible without a permit after 5 p.m., which is great.

• Canada
30 Jan 16
@Raelove
We have a bay just a few minutes away from us. It is busy in the wintertime with ice fishing-when there is ice, and very busy in the summer with swimming, boating, picnics and gatherings and then in the early fall its busy with the surfers and para-gliders, they love the surf and winds at that time. Otherwise it is a magical place to visit, my husband and I went out there about a week ago.

• Saco, Maine
30 Jan 16
@Juliaacv
We have lots of lakes and ponds in this part of Maine that are hot spots for ice fishing this time of year. But our seashore is relatively unpopulated, so I love going down and making the most of it while I still can.


• Saco, Maine
29 Jan 16
It is. I can't wait to get back out there once the weather improves. Still a bit too cold to walk out 700 feet over the open ocean.

• Northampton, England
29 Jan 16

• Saco, Maine
29 Jan 16
Thanks. I was at the land-end of the breakwater, which gave me a spectacular angle looking down its length, which is about 750 feet.

• Dollard-Des-Ormeaux, Quebec
29 Jan 16
I used to visit Maine a lot when I lived in NB, but haven't been there much in the last few years. There are some beautiful areas there. That is nice that you live near to such a good place to visit.

• Saco, Maine
29 Jan 16
Yes, there are. And I love the fact that I am now closer to them here.

• United States
29 Jan 16
I believe I was in that area at one time.The name ring the bell with me.

• Saco, Maine
29 Jan 16
I'm sure you were. It's just south of Old Orchard Beach, between Biddeford Pool/Hill's Beach and Saco. Like all beaches here, it's nicest this time of year when it's deserted. Once the crowds show up, it is not as easy to move around.