Done For Another Year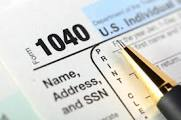 Saco, Maine
January 29, 2016 6:00pm CST
I just finished putting the final touches on my income taxes and will make copies tomorrow for various purposes. I owe the IRS money again this year, but not as much as in the past, as my freelance writing earnings weren't as high this year. But as in past years, I'll wait till April 15 to mail the check in and call it good. Anyone who generates an income of $400 or more in the U.S. must report that income and pay what is known as a Self-Employment tax. (I've added the link to this tax regulation at the bottom of this post for those who might have wondered what the minimum was.) This tax goes into the Social Security and Medicare funds out of which those benefits are paid. I'm already on both, so in essence, part of what I pay comes right back to me, as each year, I get a small increase in my S.S. benefits because of my SE tax contribution. That's the Fed for you. They take then give back and then take again, and on and on it goes. Here in Maine, we also have what's called a Property Tax Offset and Rent Rebate Program. What that means is that, if you pay property taxes on your primary home, you can get some of that money back based on your income. If you rent, you can get part of what you paid, again based on your income. So while I may not be getting a federal refund, I will be getting a rent rebate, so that will help. I'm just glad it's done for another year. Now, I don't have to worry about it again until 2017! https://www.irs.gov/taxtopics/tc554.html (Public Domain Image)
10 responses

• United States
30 Jan 16
We haven't gotten our W2' nor other investment forms. We have not paid taxes since since we worked full time. I hope the next President, whoever it is, reworks this system.

• Saco, Maine
30 Jan 16
The U.S. tax code is ridiculous and has been for some years. But it is rarely ever an issue big enough for any candidate to address. It could be so much simpler, but why would the Fed want to do that? And the waste of paper they're responsible for...that's a whole other issue.

• United States
30 Jan 16
@Raelove
They all mention it but no one does a thing about it. I shouldn't complain since we don't pay.

• Saco, Maine
30 Jan 16


• Boise, Idaho
30 Jan 16
That is cool that you have those programs.

• Saco, Maine
30 Jan 16
Yes, it is. Every little bit helps.

• Boise, Idaho
30 Jan 16
@Raelove
....Definitely. I got to a point where I hated doing them and went to H&R. Did them there every year. They were great!

• Saco, Maine
30 Jan 16
@celticeagle
I've never been to anyone to have my taxes done. As for H&R Block, I have heard too many horror stories about them, and I won't pay anyone a fee just to get my refund back faster. I can wait. That gives me something to look forward to!



• Green Bay, Wisconsin
30 Jan 16
Good for you. I didn't make that much, or enough to file taxes this year.

• Saco, Maine
30 Jan 16
I did make over $400 writing, so I had to report it. Otherwise, my only other income is Soc. Sec., and I would not have had to file at all if it weren't for the writing income.

• Green Bay, Wisconsin
31 Jan 16
@Raelove
I'll be filing next year as I will have reportable income with Social Security and writing. At least I think so, we'll see.

• Saco, Maine
31 Jan 16
@just4him
My SS is reportable, but once I do the worksheet, I always find that none of it is taxable. So really, only my writing income is. Only, it's so low these days that all I pay on it is Self-Employment tax. I should be thankful it's low this years, as in past years, it was pretty high and I had to make payment arrangements.


• Bunbury, Australia
30 Jan 16
Doing paperwork such as this is always a bit daunting I think. Luckily Vince handles it all but I really need to learn more about how it all works.

• Saco, Maine
30 Jan 16
You probably should in case there ever comes a time when he can't do it. It is daunting, but I've found that if I take it slowly and stop when I'm feeling overwhelmed, it works out OK.

• Bunbury, Australia
30 Jan 16
@Raelove
That's a good way to approach it. We fully intend to go through stuff together in case Vince goes first. No good putting our heads in the sand over this. Vince has been executor a couple of times and it can be an absolute nightmare if papers aren't at least in some sort of order.

• Saco, Maine
30 Jan 16
@JudyEv
Good idea. I find that I need to approach it slowly and when I'm rested and not distracted by anything. It's really pretty straightforward once you see that it's all steps you have to follow. And our tax forms here have instructions that are pretty detailed. I taught myself how to do it by focusing on one line at a time, filling it in, and the moving on. There is no complicated math that can't be done with a calculator. It is time-consuming, but it feels good to get it done.


• United States
31 Jan 16
Ours are done also. I always report any money that we make.

• Saco, Maine
1 Feb 16
I report whatever I make over the $400 minimum. I'd worry if I didn't.

• United States
1 Feb 16
@Raelove
Yes me too. I believe in being honest about things. It would bother me not to be.

• Saco, Maine
1 Feb 16
@Susan2015
Not to mention that, if you don't report it and the IRS finds out about it, you'll have to pay penalties. I'd rather be honest.

• United States
30 Jan 16
I will be doing this in two weeks. It is the annual pain.

• Saco, Maine
30 Jan 16
It is, but it is less so if you're getting something back, which I never do, not from the Fed at least. I do from the state, but it's rent rebate, and has nothing to do with taxes. I no longer earn enough to have to file state taxes.

• Canada
30 Jan 16
You did your taxes up early! We won't have all of our slips until the end of February so we usually wait until mid-March to take it in to the accountant. Its too complicated to do our own, so we have been going to her for quite a few years now.

• Saco, Maine
30 Jan 16
I've done my own taxes for years. They've always been pretty easy, even though I've had to use the Long form for a long time. I usually don't get them done this early, but I need copies of the finished taxes for other purposes, even though I won't be mailing the originals in until mid-April.

• Ft. Lauderdale, Florida
30 Jan 16
Reason # 67,897 that I am glad I am poor!! Aside from tax I pay on things I buy I don't pay income tax--of course living on Social Security doesn't afford me all the things I would like but it does give me a roof over my head, clothes on my back and food in my belly! "Who could ask for anything more?"

• Saco, Maine
30 Jan 16
I'm poor, too, and live on Soc. Sec. But I made over the $400 writing online, so I had to report that for Self-Employment tax purposes. Otherwise, I would not have had to file.


• Saco, Maine
30 Jan 16
It is. I am glad I don't owe as much this year, too.

• Nairobi, Kenya
30 Jan 16
Good for you. You got it done early now you can relax for the next 11 months