Personal re-introduction

Canada
January 29, 2016 6:56pm CST
I have been a member of my lot for a fair amount of time. But then they went off the air. I just heard not too long ago that they were back. I must say I like their interface much better than the old one. So here I am back and I would like to introduce myself. I am a French born Canadian but as you can see I am also very fluent in English. I was a registered nurse for 21 years first in a surgery/gynecology department, followed by the AKU department (artificial kidney unit) and finished my last 13 years in the ICU (intensive care unit). I took a voluntary lay off and I have never been back to nursing or even looked back. I am afraid to say that I had had enough. So now at the ripe of age of 61 I am retired and writing as much as I can first because I enjoy it and second because it is giving me some spare change.
6 responses


• United States
30 Jan 16
They never really went 'off the air' but they stopped their pay program for a few years...they were still here, and some people were still posting. Welcome back.

• Canada
15 Apr 16
Your nursing history is awesome, you must be a strong person to do it for as long as you did. I am happy to meet you. I am a Canadian too with duel citizenship (US) born in the states. I love Canada - been here 35 years. I am a bit (10 years) older than you and I paint on slate. (I don't speak French)

• Canada
15 Apr 16
Good morning. Can you explain to me "paint on slate" please.

• Canada
16 Apr 16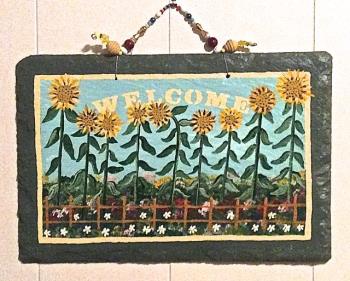 @frankie2013
Sure I buy new and used Roofing slates, I prefer the used, they are thinner and more interesting because of acid rain that changes their colors. I do a lot of writing on them, making funny signs, and I do welcome signs and all sorts of things that people ask me to do.

• Canada
16 Apr 16
@PainsOnSlate
Very artistic welcoming sign. Kudoo on your unusual endeavour.


• Canada
13 Feb 16
Good afternoon. I reside in Quebec though I was Ontario born and raised. Nice to finally meet a fellow Canadian.

• Canada
13 Feb 16
@frankie2013
We drove from Alberta to the maritimes twice. Quebec had lovely clean campsites and highway stops!

• Bunbury, Australia
23 May 16
Being retired is great don't you think? We are both retired now and love having time to ourselves.

• Philippines
30 Jan 16
I havent no idea they have stop paying but now their back.