The Space Shuttle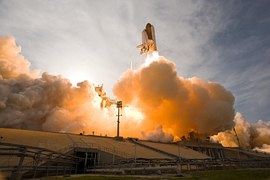 United States
January 31, 2016 8:36am CST
It has been 30 years ago when the Challenger Space Shuttle exploded over the Atlantic Ocean killing everyone on board. They were only about 10 miles or so from Earth and had just taken off. People at first did not understand what they were seeing until the announcement came that the vehicle had exploded. Seven crew members were killed, two were ladies. One of the ladies was a school teacher who was going to give lessons from outer space to students. NASA's last space shuttle mission was in July 2011, when Atlantis was successfully sent to the International Space Station. Since then, the United States has relied on Russian rockets. But in 2014, NASA approved two private companies — Boeing and Space Exploration Technologies Corporation, to take Americans into space.
4 responses


• United States
31 Jan 16
I do recall this terrible event Marcy. It was so very sad that all the crew members were killed in that one instant.

• United States
31 Jan 16
@TiarasOceanView
I remember that day also and I recall the children looking on in horror.


• Chile
1 Feb 16
I remember the Challenger explosion although I didn´t know so many years had gone by. My husband and I always followed those news by TV and we could not belive our eyes when the Challenger exploded in front of us.