A dust of snow again last night.

Roseburg, Oregon
February 1, 2016 10:05am CST
The weather man keeps saying it is going to snow a foot or more. Two nights in a row it just snowed a drop of snow and left again. I do not want to be greedy the snow can go to another state instead of colorado. That is ok to share the snow. Especially since I do not like the snow anyway. We went for our morning walk in the snow and it is not that cold out there.
9 responses


• Japan
2 Feb 16
Our weather announcers have been saying possible snow for the past few days. They are batting zero percent right now, which is fine with me. It's sunny and nice today, so nobody has said snow!

• United States
1 Feb 16
It's about 40 here and no snow for us either. That's what I say, it can go to another state.

• United States
1 Feb 16
Our snow has been melting the last few days. I can see grass in many areas now, just not where it is piled. I'd be fine with that if I knew we wouldn't get any more frigid temperatures. It's hard on the plants when they don't have the protection of the snow. My younger two kids are upset about it though. They enjoy playing in the snow but they haven't had much to play in recently. This winter and last had little snow compared to our usual amount.

• Momence, Illinois
1 Feb 16
Only a couple of inches for the Chicago are so far this winter, I like it. I heard Wisconsin is going to get spanked tonight I think.

• Eugene, Oregon
1 Feb 16
I don't like the snow either, as it is to cold, and I just can't drive in it. I am so afraid that I will get into an accident and hurt someone else or myself, so it is better to stay home and stay safe. We have only had a trace of snow thus far, and that is enough for me.


• United States
1 Feb 16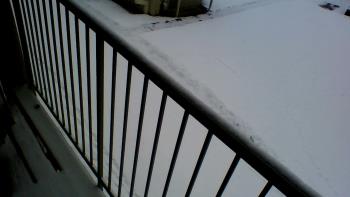 It is snowing right now here Judy. More to come all day too it said and more tonight. I hope we dont get as much as they are predicting.

• Philippines
1 Feb 16
Weather predictions could sometime be inaccurate.