Elephant Trunk Up for Good Luck, Down is Bad Luck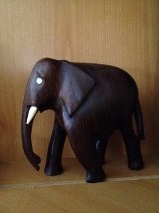 Orangeville, Ontario
February 2, 2016 12:34pm CST
It is said that if you have an elephant figurine in your home (or maybe even a photo, not sure) the trunk should be up. If the trunk is down it is bad luck. I was doing some dusting the other day (yeah, I do that once in awhile), and I came to the wooden elephant that was given to me from a priest that was a good friend, presided over my first marriage, and brought the elephant back from Africa. The priest has since passed away. The elephant's trunk is hanging down, straight down. I keep looking at it thinking I should get rid of it because it is said to be bad luck and my life has been nothing but bad luck since I married that first husband. But because of where the elephant came from, I can't bare to part with it. It has sentimental value when it comes to the gifter and where he got the statue - not because it was a wedding gift from him for a wedding that totally failed (major abuse - physical, mental, alcohol, etc.). Are you superstitious enough to part with such a priceless, sentimental item?
9 responses

• New York, New York
3 Feb 16
Your elephant looks like a beautiful piece, what I think I would do is I would keep it and to feel better I would buy another elephant (with it's trunk up) a tad bit larger than the one you have that way it will over power the one with the trunk down.



• Orangeville, Ontario
4 Feb 16
@howard96h
As I look at the picture again I can't help but think this particular elephant of mine looks so sad.




• Orangeville, Ontario
2 Feb 16
@louievill
Looks like you got plenty to spare. Care to send one my way? I could use some good luck gettin'.


• Philippines
2 Feb 16
@patgalca
Don't worry, you will get lucky starting tomorrow even without the elephants, I'll include you in my prayers

. I pick and sell antiques and vintage items and from time to time asked to appraise with what little knowledge i have, that's a sideline job and hobby that i really enjoy.



• India
3 Feb 16
I am not superstitious and even if I were I would not throw away something that had sentimental value.


• Bunbury, Australia
3 Feb 16
I don't think I'm superstitious at all but I'll cross my fingers just in case.


• Orangeville, Ontario
3 Feb 16
First of all, this was just a topic of conversation, not something I'm really worried about... just made me think. Second of all, my family never gave me any input about marrying my first husband. They were actually in the house the first time he attacked me and they did and said nothing to me then or afterwards. I don't have a very supportive family.

• Chennai, India
3 Feb 16
Your post is interesting. I have never heard of such a superstition. In India we worship an elephant God called Ganesha and his trunk is down ending in a U shape. If an item has a positive sentiment behind it, we should not part with it.

• Garden Grove, California
3 Feb 16
glad you reminded me that my little white elep hant that m hubby bought me ln Mexico has disappeared or never got here when I moved here a number of years back. I will ask my son if he has my elephant.