The mighty Boxer Dogs.

Banks, Oregon
February 7, 2016 2:44am CST
Boxers are another awesome Dog, they are a mix between the old English Bulldog and, the now extinct German Bulldog, they have a strong jaw and, a very powerful bite, built for hanging on to big prey, the Boxer is also fearless and, determined, making it the perfect guard dog. My Uncle used to have one named Buster, he was nice as can be to family, but he was very Leary of strangers and, didn't tolerate other Dogs in his yard, he was a tough Dog. I remember he was always getting in fights with neighbor Dogs, that's one of the main reasons. I can't get a outside Dog, because we don't have a fence around our place. I would like to, but I don't own it, in closing the Boxer is a great guard dog, he is also very lovable, loyal, intelligent, friendly and, strong, but you need a fence, because they don't like strangers or other male dogs.
11 responses

• Bulgaria
7 Feb 16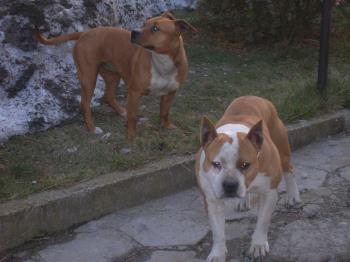 I love dogs. Boxers are nice dogs we have the American Staffordshire Terrier. These dogs are trained to protect his master. Dogs are smart and even people.These are male and female Staffordshire are wonderful friend! Thanks for this discussion!

• Banks, Oregon
7 Feb 16
American Staffordshire Terrier are awesome Dogs too, really every Dog is awesome basically lol and, great friends.

• Bulgaria
7 Feb 16
@TRBRocks420
He's right dog is the greatest friend of man. Glad you like dogs and love them!

• Preston, England
7 Feb 16
my last dog was a Boxer - she was fabulous and very boisterous - she often knocked me clean over jumping up at me when she saw me coming in

• Banks, Oregon
7 Feb 16
Yeah, they are very playful always jumping up and, they really do like to Box when they play or fight lol.

• Philippines
7 Feb 16
Indeed , if your dog is as ferocious as that boxer , you should have a fence so he can bit and scare people . But it is a very good guard for the house . I like dogs that looks like a bulldog actually . They seem like fierce yet so cuddlesome because of the wrinkled hair and skin . And with their ugly face , they can really scare people.


• Banks, Oregon
7 Feb 16
Yeah, to their owners they are nice, but they think others might by be trying to hurt them or their family. So, they can get mean lol.

• Philippines
9 Feb 16
@TRBRocks420
Mean because they are just protecting their love ones too.

Dogs are really man's bestfriend . That's why , no matter what , they even try to risk their lives just to protect them in times of danger .

• Redlands, California
7 Feb 16
I just think dogs outsmarted us. They went for the long game. If they make us a better people. I a all for it.

• Banks, Oregon
7 Feb 16
They are smarter than most people, that's for sure and, a lot more loyal.


• Banks, Oregon
7 Feb 16
Yeah, that's true out of all Dogs, they are sadly the most common to get cancer, but yes very friendly.

• United States
8 Feb 16
@TRBRocks420
It is sad as some are so young when they find out they have cancer.


• Banks, Oregon
7 Feb 16
Yeah, they are big muscular looking dogs and, yes a fence is a good idea for any Dog. I am looking to get one, who I can keep inside besides going for walks. Boxers I can't because to energetic.

• Louisville, Kentucky
8 Feb 16
@TRBRocks420
I know they do have portable fences you can put in your yard but I don't think it would be sturdy enough for big dogs.

• Perth, Australia
6 Mar 16
I always have to smile when I see this breed of dog. I don't know what it is about their faces but they are just so cute and have this certain look that I can't help but smile or giggle at.

• Banks, Oregon
6 Mar 16
Yes, they are very cute and, lovable dogs, also kind of funny lol.

• Fairfield, Texas
7 Feb 16
Boxers are very good guard dogs and extremely loyal to family
@TRBRocks420
. And yup, a fenced yard is a dang good idea.

• Banks, Oregon
7 Feb 16
Yeah, they are awesome, but just protective and, territorial.

• United States
7 Feb 16
Thanks for info on these wonderful dogs. It is wise to check out a breed's characteristics before adopting a breed of dog for sure. We adopt mutts, but they too need to be checked out regarding the mix of breeds in the dog. We have a Chow/Shepherd mix and she does have characteristics of both breeds. She is one very aloof little girl dog due to her being part Chow.

• Banks, Oregon
7 Feb 16
You're welcome and, yeah you have to be careful what kind of Dog you get and, make sure you're prepared to give it a good life, a chow shepherd sounds like a good mix. I love both.

• United States
7 Feb 16
dogs are cool but some can be scary

• Banks, Oregon
7 Feb 16
I love Dogs, but yeah if they aren't yours they can be. I have almost been attacked, but yelled get back and, they backed away.


• Banks, Oregon
7 Feb 16
Some Dogs can be scary, unless you know them.