Family reunion dinner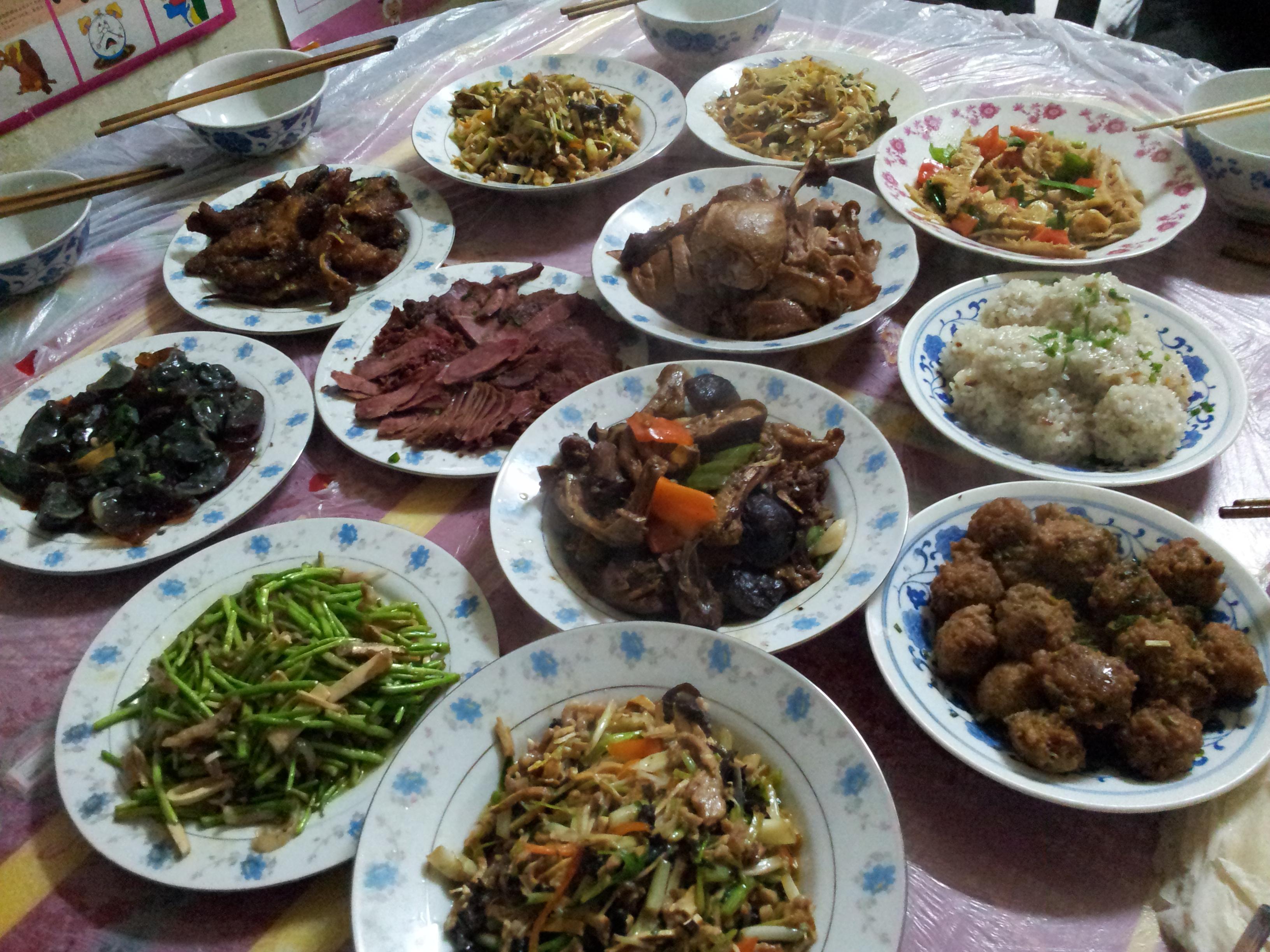 China
February 9, 2016 1:17am CST
This is our most important dinner all the year round, which we have in Chinese New Year' Eve. My wife began to go shopping ,then fried ,steamed and stir-fried them in preparation for this dinner 10 days ago.It was a dinner of more than ten courses this year .(see the picture) Having been working hard ! My wife ! picture taken by me
8 responses

• United States
9 Feb 16
Wow, that is a lot of work and some (I say some because as you know I don't eat pork and some seafood, which I suspect are in the picture) looks very delicious.

Making my hungry.

• China
10 Feb 16
Thank you ! That 's okay! I remember you mentioned that you don't eat pork.There is no seafood in it .One of them is made of freshwater fish .

• United States
10 Feb 16
@changjiangzhibin89
I hope you are having a wonderful New Year. I talked to my husband about going to the Oriental restaurant this weekend to give our waitress a New Years/Birthday gift.


• China
11 Feb 16
@Carmelanirel2
Nice of you to give her gift .She will be very much obliged to you .


• Philippines
10 Feb 16
Oh that is a great 10 dish lauriat (lao-diat or renao) your wife prepared for you my friend

very special. We only get to eat this kind of feast in good Chinese restaurants. it's in a "lazy Susan" or Chinese style rotating table because there are so many dishes that the table has to be the one to turn so everybody sitting is comfortable, very nice my friend, you are very luck you have a wife like her


• China
10 Feb 16
Thank you for your compliments !Those are dishes that she is adept at cooking ,only makes on New Year's Day or other festivals .I guess there are many Chinese restaurants over there .

• Philippines
10 Feb 16
@changjiangzhibin89
there are plenty here but you have to choose the authentic ones, our family favorite is Toho, it's the oldest restaurant in the Philippines, my family has been eating there for generations, i know how to eat Chinese food even the uncommon ones like suckling pig, sea cucumber etc.. I also know how to use chopsticks

so your wife's cooking made me hungry, that is already very expensive here

• China
10 Feb 16
@louievill
If my memory serves me well ,You have mentioned that you are partly of Chinese origin ,but I can't remember exactly when your forefather from China went to there .Suckling pig and sea cucumber seem to be Guangdong dish.


• Bunbury, Australia
9 Feb 16
Ten dishes! That sounds like a lot of work for your wife. It's a shame the photo hasn't loaded.

• China
9 Feb 16
Yes,It tired her out.I couldn't upload the picture until this afternoon .

• Bunbury, Australia
9 Feb 16

• China
10 Feb 16
@JudyEv
She thinks cooking is fun and constantly improves herself in cooking .


• Philippines
22 Feb 16
Oh wow , that was a lot of foods and your wife prepared them all ? So, what 's your participation in the food preparation ?

By the way , what's that dish with black stuff on the right most side ? Is that mushroom ? They all look so delicious . I am actually salivating .



• China
22 Feb 16
Thank you! I only served as assistant in all food preparation.Yes , it is dried mushroom .

• Philippines
23 Feb 16
@changjiangzhibin89
At least you helped your wife .

So , it's dried mushroom indeed . I love dishes with that .

• China
23 Feb 16
@SIMPLYD
Mushroom and edibleblack fungus become hot stuff here ,which are benefitial to health from all accounts .


• United States
4 Feb 17
It all looks so good. I hope everyone enjoyed the meal and that your wife had lots of help cleaning up afterwards!

• China
5 Feb 17
Yes ,we were her assistant and helped her with some odds and ends.

• United States
7 Oct 17

• Philippines
17 Nov
I hope you get another family reunion this year. Look at those dishes and that's a lot to eat.

• China
18 Nov
Thank you ! However unlike yours,we have less seafood here.


• China
8 Jan 18
Thank you ! Our eating habit is different from yours,most of them in the picture are fried dishes.

• Preston, England
11 Feb 16
looks delicious - hope the family gathering went well for everyone