The best way of washing your face.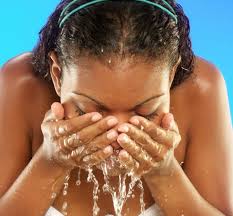 Hyderabad, India
February 9, 2016 11:35am CST
Face washing is one of the important daily routines. From morning to evening we work and when we have to work again, we need some freshness to our mind, mind as well to our other parts of the body as that includes as our face. Normally we w ill be washing our face using a cleanser. Is it enough.?Certainly yes, if the pH of the same is 5.5 or that which is quite suitable for our skin. A doubt may arise as to how many times the face should be washed? Can we use soap, facewash or any ordinary traditional methods to make it fresh? Though the use of facewash a new trend among the youth and the general pubic, which we can not dispense with totally, the usage of SOAP SEEDS is the perfect one. How to prepare the water with Soap Seeds? Take 10 soap seeds and crush them on the floor. Take water (250 ml) in a separate container and boil it ti ll it reduces to 150 ml. Add the crushed Soap Seeds to the boiling water and heat it for another 10 minutes. Allow it to cool and see whether the uncrushed soap seeds are settled at the bottom. After that, use the water on the top and splash it on your face. Give a gentle round rub over the face. Do not rub for a long time. Wash your face with clean warm or lukewarm water. Again use soap seed water. This time, there will be some leather that will form on your face. After two minutes wash your face immediately. Take a soft Towel and pat it on your face. Do not rub it over the skin of the face as it may block the pores, if it is not clean. If you are using a cleanser, in place of Soap seed water, always ensure to rinse the face with cleanser otherwise, this will make your skin dry..and may cause irritation. Always wash your face twice a day. Morning to remove the bacteria settled on the face and edges of the eyes and in the evening before going to bed.
1 response

• Switzerland
10 Feb 16
I have the same question as
@JolietJake
I never heard about soap seeds and I cannot find anywhere what they are.

• Hyderabad, India
10 Feb 16
I will make a post on that very soon.