Make Your Own Adult Coloring Books And Design Sheets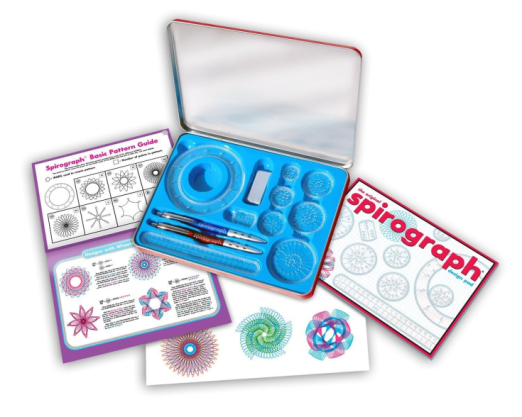 United States
February 13, 2016 11:39pm CST
Years ago I wrote about stained glass coloring books and how relaxing it was to plop down with one, put your brain on cruise control and kill a half hour. Fast forward, adult coloring books are all the rage. I have to laugh though, some of them are $12.99 which is just ludicrous. All you need to make your own are some free designs that you can find online or invest a couple of dollars into a Spirograph. There are a couple different versions of these 'toys' and the patterns that you can make from them are amazing. The designs are made using a large circle as a border and smaller wheels / circles inside it. You use a pen inside one of the holes in the wheel and rotate it in a circle. While that sounds complicated, the grooves on the edges do all the work of keeping everything symmetrical. Once you have the feel of it you can branch out and make larger designs or work with five or six designs and cut them out and paste them on another sheet to create something that is 100% unique. To get the best results you need to use a pen that has a true black ink so if you need to photocopy something you are going to get a solid copy. If you have a couple of different versions of this you can expand on the number of shapes you can create. The travel version has smaller wheels so you can create more intricate designs and the anniversary limited edition sets have wheels that were previously unreleased. I have an old Spirograph that has held up remarkably over the years; the box is worn but the wheels and templates are still in near-perfect condition. I make my own designs on vellum so that they can be illuminated; you can color the designs with whatever you want and make a cylinder from them that you can slide over a small light (as opposed to taping it on a window). Image: Hasbo Anniversary Edition Spirograph Have you ever used one of these? Do you have adult coloring books? What other things do you do to relax?
5 responses

• Denver, Colorado
14 Feb 16
I have to admit, when I saw "adult coloring book," something entirely different popped into my mind.

• United States
14 Feb 16
@teamfreak16
It took me a while to get over seeing that too; I was waiting for the day that someone actually put out an adult coloring book but I guess it would probably look like an anatomy coloring cook or have an XXX rating LOL

• Bunbury, Australia
14 Feb 16
Our kids had a spirograph but they didn't play with it much. They are now in their 40s. It's great that some people find colouring-in relaxing but it doesn't appeal to me.

• Bunbury, Australia
14 Feb 16
@freak369
I think it got thrown out long ago. What a shame.


• United States
14 Feb 16
I love those books and since I am learning my printer I would rather try making my own pages.

• United States
14 Feb 16
@freak369
That seems like more fun for me. Thanks.

• United Kingdom
14 Feb 16
I had a spirograph as a kid and loved it. Certainly I never did them on vellum...do you really do that as vellum is massively expensive here. No I don't do it anymore and wouldn't be interested in doing it. The only thing similar I'd be interested in doing is brass rubbings from 1000 year old churches that I used to do as a kid. That'd be pretty nice to do again...but not on vellum as it's too expensive


• United States
14 Feb 16

• United States
14 Feb 16
@Mike197602
There are a couple different grades of vellum; the ones that come precut are the cheapest and the ones that are bound in tablet form tend to be the most expensive.