what do you do if you have one billion dollar in you'r hand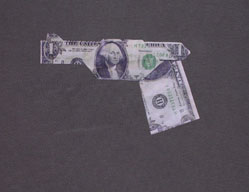 Indonesia
November 24, 2006 9:29am CST
build an extraordinary house..
7 responses


• United States
24 Nov 06
1. Pay off all my bills 2. Buy a house 3. Establish a trust fund for my son, including money for college 4. Endow a peace studies program 5. Set aside enough so that I could live comfortably the rest of my life.

• United States
24 Nov 06
The first thing I would do is to give all my momey. Iwould like to see buy the home they really want and use the momey set them up for life. The second thing I would do is set trust funds for my grandchildren too use for collage or whatever thier asperasions are.Whatevers left I would like my husband and I to take time out to enjoy ourselves before it is to late we are not getting any younger.

• France
24 Nov 06
Put half of it into reforestation charities, then buy some land, build an eco house and settle down to grow vegetables and write and be peaceful